Jumeirah Carlton Tower, London Unveils Six Exclusive Luxury Suites
---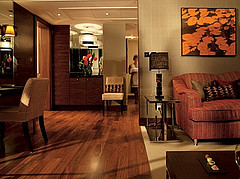 London's celebrated hotel, the
Jumeirah Carlton Tower
, has just announced the addition of six brand new luxury suites created by world-renowned interior designer Khuan Chew
(the genius behind the stunning interiors at Dubai's seven-star Burj Al Arab hotel).
Located smack dab in the middle of Knightsbridge, the Jumeriah Carlton Tower raises the bar for luxury in London: these new suites are simply oozing glamour and sophistication. Private lobbies sweep through to spacious lounges appointed with rich upholstered couches and dark wood furniture. Bedrooms are detailed with chrome studding set into the leather walls, modern light fixtures, and sumptuous bedding. The bathrooms, appropriately, are the largest in the hotel-- with deep infinity baths and rich red marble for the double sinks. The Six Luxury Suites can be booked as either a one- or two-bedroom suite starting from $3,610 for a one-bedroom suite and from $4,880 for a two-bedroom suite.
P.S. The hotel has also recently unveiled 92 refurbished rooms! You'll love the new pop-up TV at the foot of the bed, and mirror-vision concealed TVs in the bathrooms.
---