Hayman Island Resort in Australia Temporarily Closed Due to Cyclone Damage
---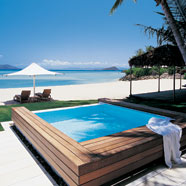 Nature giveth, and nature certainly taketh away. Case in point:
Hayman Island Resort
at The Great Barrier Reef in Queensland, Australia. Adjacent to one of the world's most incredible underwater marvels,
Hayman Island
offers guests the chance to snorkel and dive in a tropical paradise. The indulgent natural surroundings are only matched by the comfort and luxury of the beach front resort.
Yet the beauty of the oceanic environment can sometimes mask the power of the waters and wind offshore. When two major cyclones rumbled through Queensland earlier this year, Hayman Island Resort was severely damaged. Knowing that their guests deserved only the best, the property was regretfully shuttered until repairs are completed.
Yet just as the tide always returns, so too will Hayman Island Resort. The expected grand re-opening is set for August 1st, just in time to book for the Australian Spring and Summer beginning shortly thereafter. So don't fret! Hayman Island Resort will be back, and The Great Barrier Reef will be waiting.
---