Get on Track with Vitality Weeks at Carlisle Bay
---
Vitality is defined as a living force, ability to sustain life, or vigor and endurance.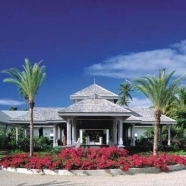 You can now get your vitality renewed with a Vitality Week at
Carlisle Bay
. A year-long series of highly personalized Vitality Weeks that are designed to boost your health and well-being was just launched at
Carlisle Bay
, Antigua's award winning contemporary luxury hotel. These 4 or 7 night Vitality weeks are planned to begin December 7th, January 4th, March 1st, May 17th, June 7th, July 5th, and August 9th.
Vitality Weeks at Carlisle Bay include an individually tailored exercise program, personal consultation on arrival and follow-up advice after you return home, morning activities such as running, hiking, beach circuits, yoga or Pilates, and afternoon activities such as gym cardio circuits, tennis clinics, or swimming in the bay. Along with two 60 minute well-being massages in Blue, the spa at Carlisle Bay, nutritional advice will be provided by the executive chef, Alex Grimley, to enhance your exercise program. Optional activities can be arranged like a zip ride over the rainforest, sailing racing lessons in English Harbour or kite surfing. Additionally, during the Kundalini Yoga Weeks, (May 17th), twice daily yoga classes with Maya Fiennes are included. During Tennis Weeks (March 1st and July 5th), tennis fitness, coaching and competitions are offered.
You will stay in an elegantly-furnished Garden Suite, boasting luxurious silks and crisp white Frette bed linens. These Garden Suites have private balconies or terraces with a daybed in which to laze away and enjoy the breathtaking ocean views. Your stay will include all meals, afternoon tea, and fresh fruit delivered daily to your suite. An opening night reception and dinner and a day off with a coastal hike and picnic, and downtime for you to enjoy Carlisle Bay's beautiful surroundings are planned. Prices for the 4 night stay are $1,700 per person for 2 sharing the Garden Suite, and the 7 night stay is available for $2,660. Single occupancy rates are available. Prices exclude any government or service tax. So whether you come alone or with a friend, plan to revitalize yourself with a Vitality Week at Carlisle Bay, a great way to begin the holidays or fulfill your New Years resolution for a renewed and healthier you.
---