Find Your Inner Nermal at The Yas Hotel in Abu Dhabi
---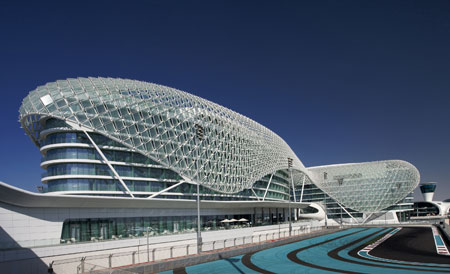 Twenty years ago, the only time I ever heard of Abu Dhabi was while reading the Garfield comic strip. For some reason, known only to that irascible cat and Jim Davis himself, Garfield often tried to ship his erstwhile companion Nermal, aka the world's cutest cat, to what was then perhaps a fledgling outpost in the distant conglomeration of the United Arab Emirates. Well, UAE is a fledgling outpost no more, and doggone Nermal might actually jump at the chance to be shipped to the shimmering oasis that is modern Abu Dhabi.
Nothing exemplifies that modernity more than the The Yas Hotel, uniquely located adjacent to the Persian Gulf. Well, adjacent isn't really the right word. The Yas actually sits straddled half over the land and half over water. It's a unique amphibious wonderland that could only be dreamed up by the visionary firm Asymptote Architecture, the lead designers of what has become a crown jewel destination. In fact, The Yas Hotel is so amazing, and with so much to offer including nearly 500 rooms, incredible dining and golfing options, and a luxurious placement next to Yas Marina, you might be forgiven for calling it the Yes hotel. As in, yes, they have that too!
So while somewhere out there in our imaginations Garfield is still trying to send Nermal to Abu Dhabi, you can get there for real. And while you're at it, you can enjoy everything that Nermal is missing at The Yas Hotel.
Related Articles:
---