Explore Angkor Wat in Style with Amansara and the New Khmer Village House
---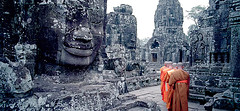 Head to the jungle of Cambodia and discover the secrets of an ancient civilization at Angkor, the 12th century capital of Khmer civilization. Housing over 100 stone temples, this magnificent architectural wonder is living testimony to Cambodia's ancestry. The place to stay is Amanresort's graceful contemporary sanctuary:
Amansara
, the former guest villa of King Norodom Sihanouk now converted into a 24-suite retreat set within beautiful gardens. In addition to its spa, pools, and exquisite roof terrace,
Amansara now boasts an additional treasure: the Khmer Village House
at the 10th century "royal bathing pool" of Srah Srang, a 15 minute drive from
Amansara
. Guests can enjoy four excellent excursions at this special place:
A Picnic by the Lake: After you explore the temples of Angkor, relax with a picnic on the front veranda overlooking the lake. Steamed dumplings, fritters, and coconut-based delicacies are laid out in luxury. Take an afternoon siesta, or take off on bikes to discover the countryside.
When Evening Comes: Watch the setting sun from the veranda, drink in hand. Garden flares, flickering candles, and moonlight are the only sources of light, creating an impossibly romantic ambiance. Traditional Khmer dishes are prepared over a charcoal fire while a musician plays. Sip ginger tea on a daybed inside the house after the delicious meal.
Rural Healing: A 90-minute non-oil massage at the Khmer Village House, followed by an additional 90 minutes of rural relaxation. Ginger tea and a selection of Khmer sweets are served.
The Art of Khmer Cooking: A leisurely morning exploring local markets and gathering ingredients for a traditional cooking class. At the Khmer Village House, a small farm garden contains fresh herbs, vegetables and chilies, used in the dishes you will prepare. A Khmer chef will guide you through the recipes in the traditional kitchen.
---