Enjoying Dubai from Jumeirah Emirates Towers
---
Courtesy of
John May, Managing Partner of New Vantage Group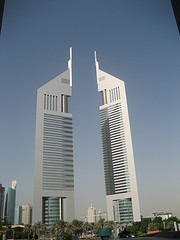 The economic times may be daunting, but the experience of a great hotel can mitigate the pain. On a recent speaking engagement in Dubai, I stayed in the Jumeirah Group's flagship property – Jumeirah Emirates Towers. The hotel sits in the downtown business district next to Dubai Investor Group building and it is less than a mile from the nearly complete world's tallest building. The facility was five star all the way, service was exceptional, and food was unlike hotel food I've had elsewhere. Staff knew your name within a day, they stood by elevators to punch your floor as you walked up, the drivers of "white cars" were readily available for side trips and at the large swimming pool with multiple lifeguards cold, not hot, hand towels were provided at the pool to cool you off in the October 100 Degree heat.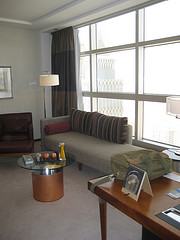 The rooms on the Jumeirah Emirates Towers Club Floors were large, marbled, quiet and had staff servicing the room multiple times a day! The view of downtown Dubai from the 42nd floor Executive Club – with its 24 hours of staff support, was stimulating. The entire skyline is dotted with building cranes and sunshine. ("When did it last rain? Oh, last winter sometime!".) The shopping mall and restaurants attached to the hotel office Towers provided diversion from the days work and the soaring hotel lobby provided a window on the constant flow of investors and Middle Eastern dressed executives.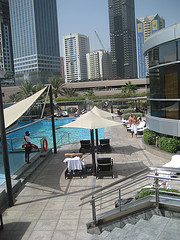 This is a business person's hotel - few families, almost no children at the pool and restaurants, but the pools did have 3 life guards on duty. Jumeirah Emirates Towers even has a floor (The Chopard Ladies Floor) for women travelers only on the 40th floor. This is the first I have seen which supports traveling women executives. I can see why this property has earned accolades over the years since it opened in 2000. I plan to go back to Dubai to see their progress over the years and I would will look forward to staying in the Jumeirah Emirates Towers again.
More candid photos can be viewed here:
---