Easter in Greece at Nafplia Palace Hotel & Villas
---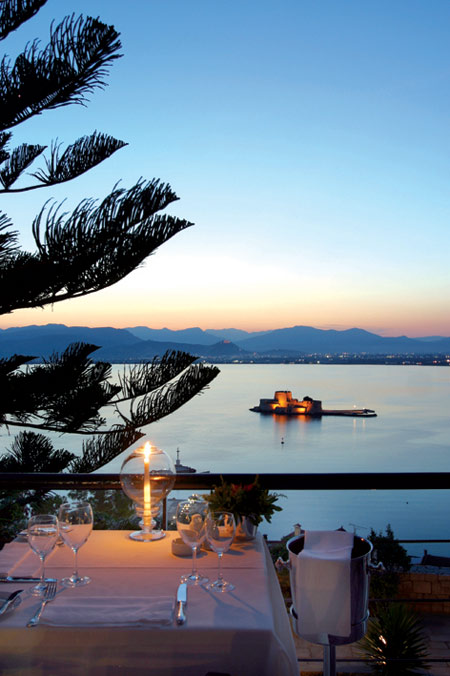 Nafplion could be the most beautiful town on the Greek mainland (or so the locals like to think). It's chock full of historic sites (and loads of charm): Ottoman buildings, Venetian fortresses, twisting labyrinthine streets and white-washed houses adorned with colorful bougainvillea blossoms. And it feels a million miles away from the tourist crowds. Jet to Greece in April to experience Greek Easter,* the country's most important religious holiday, and discover the only hotel in Europe built within an archeological site.
Nafplia Palace Hotel & Villas
is located in an acropolis dating from the 3rd Century BC. All 33 villas are individually designed with heartstopping views of the bay and old city. While bedding down in style at
Nafplia Palace Hotel & Villas
, partake in the hotel's traditional Easter lunch with live music. Outside the town will be witness to numerous processions on Good Friday, where epitaphs- symbolizing the coffin of Jesus- are draped in flowers and carried from the town's churches to Syntagma Square.
*This year Catholic and Orthodox Easter share the same dates, so the Catholic Church of Transfiguration will be open for the entire week: Resurrection night and Easter Sunday. The church has a small museum and an underground crypt in which can be found sculptural work commemorating the defeat of the Turks at the hands of the Greeks and philhellenes.
---