Dubai Towers…Istanbul?
January 9, 2006By: Mary Winston Nicklin
---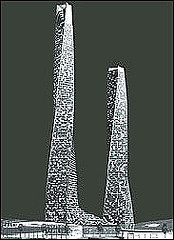 Forget the Burj al Arab. Istanbul's getting a make-over with the help of Dubai Holding's international subsidiary, Dubai International Properties. The pair of 150-meter high towers will be the tallest buildings in Istanbul-- a grand, ever-present symbol of foreign investment in Turkey. In renewed negotiations to become the first muslim state in the EU, Turkey has become a hot ticket for Arab investors. The $500m Dubai Towers will include a five-star hotel, luxury residences, office and retail space.
---
Related Hotels