Destination Jordan: Insider Tips for the Lost City of Petra
---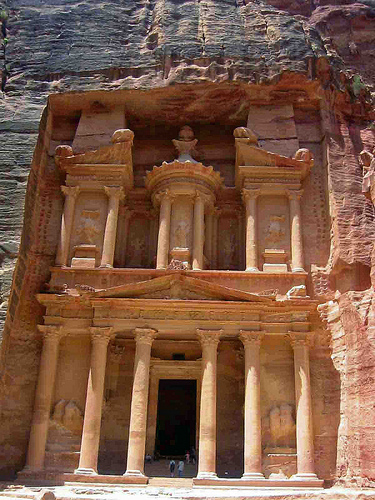 Ever dreamed of playing Indiana Jones and galloping off to the rose-red city of Petra? Is a visit to this UNESCO World Heritage Site on your bucket list? A year-round destination and a safe haven in the Middle East,
Jordan
offers a diversity of landscapes and historic sites, including the archeological wonders of Petra. When making your vacation plans, don't limit yourself to a few days exploring the "Lost City." What else should be on your Jordan agenda? A float in the Dead Sea (nominated as one of the
New 7 Natural Wonders of the World
) combined with spa pampering at
Movenpick's sprawling Zara Spa
, camping with bedouins under the stars in the Wadi Rum desert, snorkeling in the Red Sea, and exploring religious sites like Bethany Beyond the Jordan, where Jesus was baptized, and Mount Nebo, where Moses looked out over the Promised Land.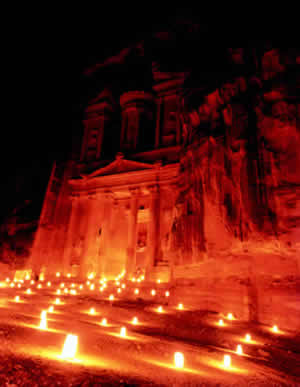 But Petra is certainly the crown jewel in the country's archeological riches. Carved from sandstone canyons hidden deep within the mountains, Petra was "lost" to the western world for centuries. Mysterious and inspiring, this ancient city was built by the Nabateans in the 4th century BC, and flourished from profits made by controlling the region's caravan routes. Archeologically, the incredible ruins show the architectural influences of Assyria, Egypt, Greece and Rome.
Some tips:
--Many visitors falsely assume that Petra's highlight is the Treasury (pictured), the setting for Indiana Jones' discovery of the Holy Grail in the film. Not so. Petra sprawls over miles and miles of trails to follow through the sites. Don't miss a hike up to the Monastery. After climbing up hundreds of stone steps carved into the mountainside, you'll be rewarded with spectacular views across to Israel.

--Plan your trip to include "Petra by Night", an experience offered by the tourism office which leads visitors along a candle-lit path to the Treasury, lit by hundreds of flickering candles. You'll be served hot tea while listening to bedouin music.

--New maps are available at the visitor center, as are interpretative signs marking sites along the trails.

--Not far from Petra, enjoy another less touristed site called "Little Petra."
---