Check into Atlantis Bay, Check into Ancient History
---
Why would you ever want to leave
Grand Hotel Atlantis Bay
once you have been lucky enough to check in?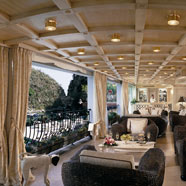 The Italian luxury resort has a private beach and exclusive rooms, and a prime location in Taormina Mare. And don't forget about the solarium, wellness center, fitness center and the opportunity to enjoy breakfast and supper by the sea. Finally, there is the piano bar for late-night revelry. But tear yourself away for a day or so, and you can visit some amazing sites. For starters, you can take a leisurely hour-long trip to Etna to see Europe's highest volcano at a height of over 3,300 meters. If you are a duffer, hit the links at the Picciolo Golf Club; you can tee off with Etna in the background.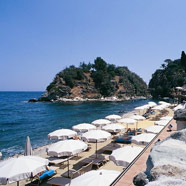 Then, a half-hour drive takes you to Catania, the largest city in eastern Sicily. This ancient, medieval, and baroque city has been destroyed many times by nature and stubbornly rebuilt by man. Or hop over to the Aeolian Islands, with the famous Panarea, Agrigento and the Valley of the Temples, and Piazza Armerina with its Roman mosaics. And that's not even mentioning the Alcantara Gorges, Sicilian Museum of Art and Folk Traditions, The Cathedral (Church of San Nicola), Church of Saint Pancras, and the Regional Archeological Museum.
But the biggest site to see, by far, is the ancient theater. It is one of the most celebrated ruins in Sicily, and dates back to Roman times, although its structure is more Greek than Roman. The theater is still frequently used for performances. Guests can also visit the Antiquarium, a small museum located in the home of the caretaker of the ancient theater. Then, head back to Grand Hotel Atlantis Bay for another round around the piano bar.
---