Carrie Underwood Performs at The Cove Atlantis, Paradise Island
---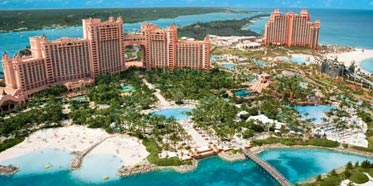 As if a stay at
The Cove Atlantis
Paradise Island Resort wasn't wonderful enough, Country music queen Carrie Underwood is performing at the luxury Bahamian property on December 5, 2009, in order to celebrate the release of her new album.
The Cove Atlantis
is a unique, ocean-themed destination located on Paradise Island, The Bahamas, and features a variety of accommodations, all built around a 97-acre waterscape comprised of over 20 million gallons of fresh and saltwater lagoons, pools and habitats.
The Cove Atlantis
is home to Aquaventure, a non-stop water experience consisting of thrilling water slides, a mile-long river ride with high intensity rapids and wave surges, and never-before-seen special effects.
The Cove Atlantis rates for the weekend of December 5 begin at $269 per night, including concert tickets. Guests who stay for two nights will receive an additional $650 in complimentary signature Atlantis activities and dining experiences, such as dolphin interactions, sushi and sake at Nobu, access to the exclusive Cain at The Cove ultra-pool and the new Snorkel with the Mantas program.
Vacations and a concert? That might be the best multi-tasking ever!
---