Capturing the Spirit of Rio de Janeiro at Copacabana Palace
---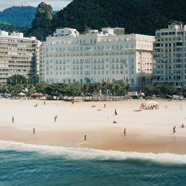 With the coming of spring, so marks the return of Carnival, an annual festival that literally translates as "to remove meat." The festival is held right before Ash Wednesday, the day of fasting and repentance that marks the beginning of Lent. One of the most glamorous hotels to enjoy this festival is the
Copacabana Palace
, but Carnival is not the only time or reason to go. The
Copacabana Palace
is a gorgeous hotel, built in 1923, with luxury rooms and suites overlooking the city and beautiful Copacabana Beach.
Copacabana Palace
also features two renowned restaurants, The Cipriani and the Pergula. The Cipriani is a place to see and be seen, featuring gourmet Italian food, and Sunday brunch at Pergula is not to be missed. If you are looking for high luxury,
Copacabana Palace
is second to none. Book now for the beginning of April, and you can enjoy the special "Celebration Package," which includes a deluxe beach view room, a 4 course meal at Cipriani's, and champagne, among other things.
---