Buzzworthy: Explora en Rapa Nui, Easter Island
---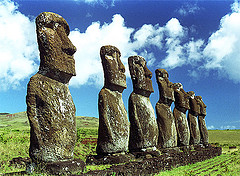 Your coordinates: 27º09 south latitude and 109º26 west longitude, 3,800 km from the central coast of Chile in the middle of the Pacific Ocean. The closest inhabited island is Pitcairn, 1,900 km northwest. Your destination? The mythical Easter Island, home to the gigantic
moai
sculptures erected by a people whose origins and evolution are still unknown. This beautiful and mysterious place recently welcomed a chic hotel hideaway:
explora en Rapa Nui , Posada de Mike Rapu
. Located on a hill facing the endless sea (5.6 km from Hanga Roa, the island's only town), the hotel provides the ideal base to explore this incredible destination. Fly from either Santiago, Chile or Tahiti (Papeete) and you will be greeted by explora staff who will whisk you away to this stunning spot. The island's native volcanic rock was used in the hotel's construction. Thirty guest rooms spiral out from the central areas that house reception, the bar, and dining areas. Adjacent to the lounge,
Casa de Baños Hare Vai
boasts a pool, massage salon and open-air Jacuzzis.
---