Buzz: ATM-Style Gold Vending Machine at Emirates Palace, Abu Dhabi
---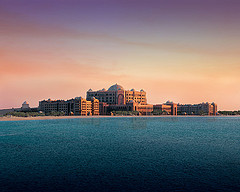 News of an over-the-top amenity at
Emirates Palace
is making the Internet rounds. Abu Dhabi's "seven-star" hotel is now home to an
"ATM with a golden touch."
The brain child of Thomas Geissler, a German entrepreneur, the vending machine is called "Gold to Go" and dispenses customized coins or small bars up to 10 grams.
The AP reports
that the machine's unveiling was well-timed because gold hit a record high on Wednesday: "Geissler says he picked Abu Dhabi because of its high-rolling atmosphere and the region's traditional ties to gold in commerce." And the
Emirates Palace
, we'd like to add, has a reputation as one of the world's costliest hotels, built for $3 billion (or $10 million a room). Oh, and their
spa has a "Diamond Experience"
treatment that uses real diamond dust...
---