Brazil is for Lovers: Celebrating Dia dos Namorados
---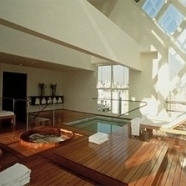 Looking for a special way to show that special someone you love them, but think Valentine's Day is still nine months away? Well, you may just be in luck. Brazilians celebrate their version of Valentine's Day,
"Dia dos Namorados,"
literally translating to "Day of the Enamored," on
June 12th.
This date is actually the eve of St. Anthony of Padua's Day. St. Anthony is considered to be the Patron Saint of those who want a loving companion, and he is also thought to bless people with a good marriage. While much remains the same in Brazil as it does in the rest of the world on Valentine's Day (
i.e. the exchange of flowers and chocolates and love letters
), there are also parades, carnivals, concerts, and parties. One of the most romantic and luxurious hotels to spend Dia dos Namorados is the
Emiliano
in Sao Paolo. Contemporary luxury with a boutique setting,
Emiliano
boasts a gourmet Italian restaurant, world class spa, and rooms and suites that are perfect for romance.
---