An Interview with the General Manager: Andrea Luri of Castello del Nero
---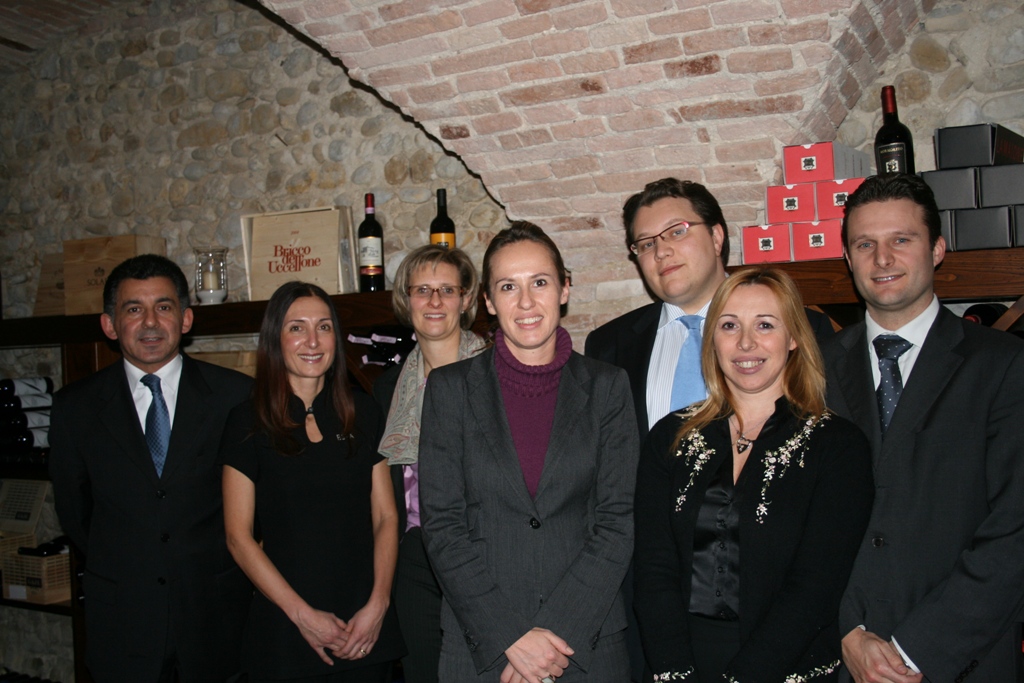 Castello del Nero is a 12th century castle outside Florence, restructured and opened as a 5 star deluxe hotel in June 2006. Andrea Luri is the General Manager.
Five Star Alliance: How did you come to be General Manager of the Castello del Nero?
Andrea Luri: Following previous experiences as General Manager of 5 star properties in Italy and abroad, I took on this assignment with much enthusiasm and passion as I believed in the value of this project as well as finding in our President and CEO a person of integrity and broad vision and who made the opening of the hotel possible.
Five Star Alliance: Tell us what you feel is the most distinctive or unique feature of your hotel? What best describes the personality of the hotel?
Andrea Luri: The historic atmosphere and location combined with modern features and comforts. The estate of Castello del Nero collects the essence of Tuscan heritage in the unique location with views on the rolling hills as far as eyes can see. The hotel was brilliantly restored conserving the features of the XII century castle it is, such as frescoes and vault ceilings as well as adding services such as tennis courts, swimming pool, gym with state of the art equipment and most of all a 100 sqm spa with 10 treatment rooms. What really does set Castello del Nero apart, however, is our staff. A team completely devoted in creating an unforgettable experience for all our Guests.
Five Star Alliance: Who are your customers and where do they come from?
Andrea Luri: A high percentage of our guests come from U.S and Canada, which are followed closely by UK and Italy and other European countries.
Five Star Alliance: Can you share the names of any famous guests who have stayed in the hotel, or perhaps regulars that return on a periodic basis?
Andrea Luri: The Italian law on privacy doesn't allow me to actually share the names, however our Guests include famous movie stars, film directors, Italian and American politicians, pop stars and fashion designers. Many of whom come back to enjoy the privacy of the estate allowing them to relax in a safe and cocooned environment.
Five Star Alliance: What is the best thing about the hotel's location? What is your favorite thing to do in the surrounding area?
Andrea Luri: The location in the countryside assures relaxing peace and incredible views on every side which change constantly with the light and time of day. At the same time we are at short distance from all major cities of interest in Tuscany such as Siena, San Gimignano and Florence which our Guests can easily reach through a complimentary shuttle bus. Guests can also enjoy a hot air balloon ride which we actually operate on property. Being blessed with a fantastic location which is Tuscany, the wine and gastronomy sector offers unparalleled experiences such as wine tastings in Chianti wineries or even Tuscan cooking classes held by our chef on property which start with picking vegetables in our organically grown vegetable patch and follow by cooking along the chef's side in our kitchens.
Five Star Alliance: Which do you consider to be the best rooms in the house? Not just the suites, but also any particular standard rooms that have great views or unusual advantages? If you were checking into a standard room at the hotel, which one would you request?
Andrea Luri: I would say that all frescoed suites and our Galway suite are simply incredible, thanks to the fact that you aren't simply sleeping in a hotel room, but Guests actually undergo the experience of living in a castle like a king or queen surrounded by frescoes which date back centuries ago, or having a private dinner on a 100 sqm private terrace overlooking the Tuscan countryside. The historical charm which these rooms exude is magnificently combined with state of the art in room entertainment and high speed connectivity. Regarding our double rooms, they are all different and it is difficult to actually pin point one as I would be narrowing down to a single choice a multitude of experiences that the different rooms can offer. They are all large and comfortable and unique in layout or furnishing or view or simply in character.
Five Star Alliance: Can you mention any interesting miscellaneous trivia regarding the hotel? Perhaps a bit of history? Any special events that have taken place on property?
Andrea Luri: Of course, being a private noble residence since the XII century, close to the road that connects Florence to Rome, you can imagine that great men such as Michelangelo or Leonardo could pass by Castello del Nero . The last private owner was the noble Torrigiani family. One of the descendents, Carlo Torrigiani in the early 1900's married a red cross nurse from Philadelphia, Anna Frey. This American lady was so affectionate with Castello del Nero that she requested her burial to be in the castle's chapel where she rests ever since. Since the hotel opened we have had special events such as Sir James Galway perform with his golden flute and also the famous Jazz Saxophonist Scott Hamilton Quartet. Also one of the weddings which took place last season had reserved the hotel exclusively with a grand gala and fireworks – truly something that you will remember for ever.
Five Star Alliance: If you were considering staying at the hotel as a guest, what would you want to know about the hotel before checking in?
Andrea Luri: A guest would certainly appreciate to know that we have a courtesy shuttle to/from the center of Florence at scheduled times, this avoids having to worry about driving and parking in the city and makes visiting much more pleasant. For all other excursions our Front Office is at disposal for organizing all sorts of activities. At the hotel you have access to the state of the art gym, two tennis courts, the swimmingpool in the summer season. Our ESPA at Castello del Nero welcomes you in the relaxing atmosphere to enjoy the many holistic spa treatments.
Five Star Alliance: What is the hardest part about being General Manager? If you could change one thing about the hotel, what would that be?
Andrea Luri: I have the same difficulty as most people do today: lack of time! Though, whatever happens, my first priority is taking the time to meet every Guest and get to know them. This job is incredible as it actually gives you the possibility of enjoying the company of extremely interesting people. If I had to change something about Castello del Nero it would probably be converting it from a hotel into my own home!
Five Star Alliance: Other than your own, can you share your choices of two or three of what you consider to be the greatest hotels in the world? And why you think they are special?
Andrea Luri: Villa d'Este is certainly at the top of my list. I was fortunate enough to start my career there and believe it to be THE great hotel. It has history, location beauty and an atmosphere of absolute magic. Another wonderful hotel is the Amansara in Siem Reap, Cambodia. A stunning property with wonderful service in a beautiful country. In my top three I also have to include the Faena hotel and Universe in Buenos Aires - staying there is a fascinating experience.
Five Star Alliance: Anything else you would like our readers to know about your property
Andrea Luri: We are now restructuring the various Villas which are located on the same estate as the hotel which will certainly turn out to be a great addendum to the property as they will also have access to the facilities of the hotel, other than having their own private pool and gardens.
Pictured From Left to Right: Restaurant Manager Giuliano Piscina, Spa Reception Maria Fanfani, Sales & PR Nathalie Beaugonin, Sales & PR Christina Ruettimann, General Manager Andrea Luri, Housekeeping Manager Sabrina Tonelli, Front Office Manager Alessio Nuzzi.
---