An Interview with the Concierge: Aleenta Resort & Spa Phuket
---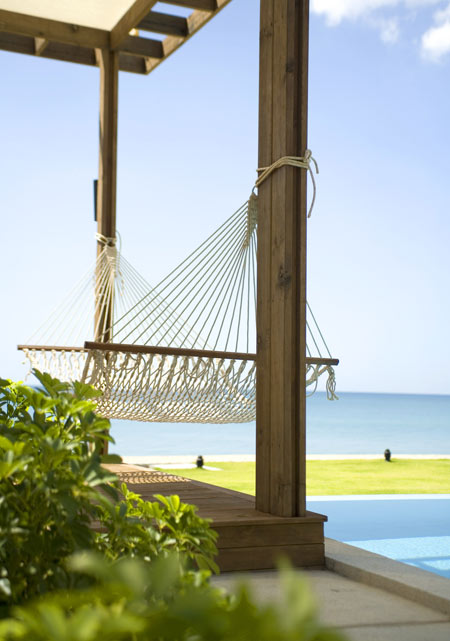 Located on the beach, past fields of pineapple and coconut which is a pure, simple and elegant resort -
Aleenta Resort and Spa
- where you can relax, enjoy and discover. The resort's concierge recently took some time to answer a few of our questions below.
What activity do you recommend the most often?
Private Yacht Charter on Ferretti 680 (which is simply the most luxurious charter vessel on offer in Phuket; featuring air-conditioning 2 LCD satellite TVs , jet ski and scuba equipment) to Phi Phi Islands, Krabi or Phang-Nga Bay.
Do you have any Do's and Don'ts for travelers to the hotel and the city?
Do experience the Thai Culture, food and the turtle conservation at Aleenta. Don't go to the beach without sun block.
What types of things have you been unable to do for guests?
We weren't able to do a sunset blessing wedding by the monks, due to the fact that monks only bless weddings before 11am.
What is the funniest request you've gotten from a guest?
A male guest requested to have his privates waxed.
What is the strangest request you've gotten from a guest?
See above.
Because you are in a major international tourism destination, what kinds of language problems come up?
When two cultures meet and neither of them speaks English, it becomes a challenge.
Which restaurant do you recommend the most often and why? Who is it best for?
We have several recommendations for restaurant first and for most is our Aleenta main restaurant which has Thai cuisine, than we have our Chefs' Table fine dining Restaurant which has French and European cuisine. Apart from our restaurant we have small local beach shack located 10minutes drive from the Resort which gives an authentic Thai meal eating experience.
What are the things that you wish guests knew about the Concierge?
The time and effort that goes into ensuring that our guest's leave with not only a positive image of our Resort, but also of Thailand.
How big is the Concierge staff at the hotel?
1 concierge staff and 2 front office agents
Are there any specialty concierges or all generalists for everyone?
Generalists for everyone, concierge is an area of expertise for all our Front Office staff.
What is the average number of requests a day?
20 per day.
What is your personal favorite part of the hotel?
Our Aleenta Ka Spa and the view from the outdoor dining area of our Chef's Table fine dining restaurant.
What is your favorite aspect of your job?
I love to interact with the guest and teach them about the Thai culture.
Visit the Aleenta Resort and Spa in Phuket
---