An Inside Look at the Escoffier Cooking School at the Ritz Paris
---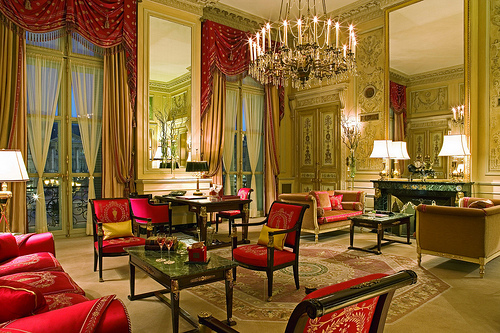 Talk about arriving in style! It's fashion week in Paris so when we
attempted to strut our stuff
walked across the Place Vendome last night, easily one of the most prestigious addresses in town, a crew of paparazzi was stationed outside the
Ritz Paris
preparing to snap shots of the celebs coming and going from the palace hotel. At the invitation of
Travel Onion
-- a new web site that curates the best blogs on worldwide travel-- we toured the
Ritz Paris
, ogling the gilded Suite Impériale (
and wouldn't you? just check out the photo
), Madonna's rumored Parisian haunt with a price tag to match its opulence. Most recent resident? The Russian President. We also got a good look at the restaurant and Hemingway bar, helmed by Colin Field, recently named the best bartender in the world by
Forbes
.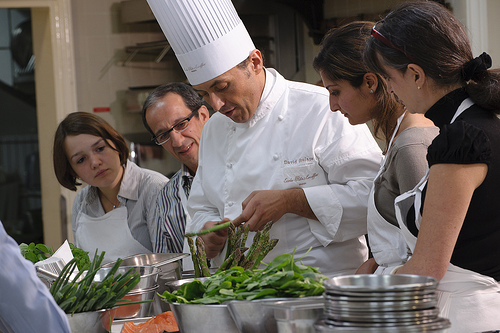 The highlight of our Champagne-infused soirée-- besides meeting some fabulous local Paris bloggers-- was the cooking class at the École Ritz Escoffier, the hotel's culinary school named for Auguste Escoffier, the legendary chef who invented Peach Melba and other classic French dishes. The setting alone is enough to excite the foodies of the world-- opposite the sprawling kitchen that churns out masterpieces for the Ritz restaurant. The school has a number of different courses on offer to appeal to both professionals and amateurs, so those of us who are challenged in the kitchen could even find joy in the food prep. And the very capable Chef Didier Steudler smoothed things over (the minor issue of a sauté pan of veal medallions going up in flames) so that the final products on the dinner table were beyond delicious."You must feed the meat!" Steudler had told us when adding--Mon Dieu!-- a good pound of butter to the sauce pan.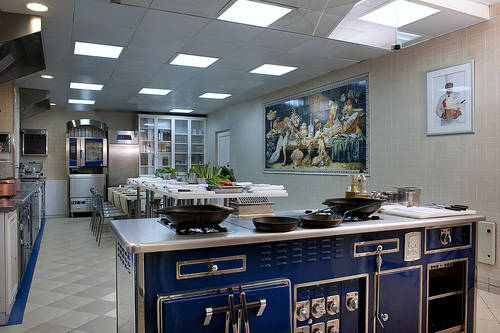 For the first course, we tucked into a confit tomato tart smothered in grated parmesan, smoked ham, and baby arugula. The main course consisted of the afore-mentioned veal served with a potato and celery gratin, and the dessert was bright orange passionfruit macarons with a warm chocolate fondant with passionfruit ice cream and diced fresh fruit. All paired with perfect wines, of course.
It's possible to take a private class during an afternoon, or a multi-day course. The first-level unit, which touches on the basics of French cuisine, is priced from 1100 euros for the two-day (14 hour) class. The entire course (seven units over three weeks, or 98 hours) is priced at 7000 euros. Courses are organized by theme: molecular gastronomy, traditional French cuisine, vegetables, meats and poultry, foie gras, fish and crustaceans, deluxe sandwiches, organic flavors, and more. There are also special programs like Ritz Kids-- a two and a half hour cooking class for "les marmitons"-- and "The Art of the Cocktail" with Colin Field.
---