Condé Nast Traveler Hot List 2012: Jumeirah at Etihad Towers
May 16, 2012By: Christopher Roney
---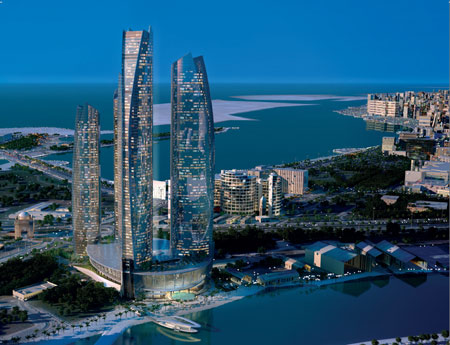 Conde Nast Traveler, purveyor of fine hotel reviews and travel advice, has just released its 2012 edition of the Hot List, a list of hotels that are setting the hotel world aflame with fresh designs and new concepts, or maybe just a solid new look at classic luxury. 41 reporters embedded themselves anonymously in hotels across the globe to review their targets. What results is a list of 121 hotels around the world that are so on fire they should be put on your watch list, just in case they end up burning down.
When the entire administration of my alma mater left for Abu Dhabi, it engendered a bunch of jokes, including the seminal Miley Cyrus parody Party in the UAE (warning: you probably don't want to click on this link). Now I can say with a certain amount of authority that if anyone were having a hoedown in the sandiest of cities, they would be remiss if they didn't consider the Jumeirah at Etihad Towers Hotel for its venue. Quest, their signature Asian fusion restaurant is just about the hottest thing in town, and you'll know just from the first sip of your welcome drink that you've happened upon something special. The hotel tower is paired with four others that make a brilliant complex that accents the city skyline quite impressively, and your views from any of the higher floors are impressive to say the least, whether they look upon the city or the Persian Gulf, which stretches out from the beach that flanks the hotel. The in-house Talise spa also features 13 treatment rooms and the latest in therapy. The Jumeirah at Etihad Towers Hotel showcases the feats of modern architectural achievement, and its interior stands up to the lofty challenge of matching its first impression.
Posted in:
Middle East
,
United Arab Emirates
,
Abu Dhabi
,
Business Travel
,
Luxury Suites
,
What a Hotel!
---
Related Hotels