Image of the day: Banyan Tree Lijiang
---
Banyan Tree Lijiang is located 2,000 metres above sea level and is 40 minutes away from Lijiang airport. It garnered an award for Best Luxury Hotel and Best Spa Resort in China during the 2007 China Hotel Starlight Award ceremony.
The resort is 15 minutes from the historical town of Dayan and basks in the shadow of the magnificently desolate Jade Dragon Snow Mountain.
We needed to decide on an appropriate name for our newest family member and staged a popularity contest from a shortlist of the top three name choices, each with a story featuring something significant in Tibetan culture or folklore. Over 70 client accounts were contacted with photos, names and stories asking them to make a choice. We also ran a contest on WeChat receiving over 800 responses. The most popular name by far was actually the original – "Lanka" roughly translated as "Blue Sky" in Tibetan, being easy to pronounce and symbolic of nature.
"Blue Sky" is also a metaphor for the free spirit of the Tibetan Highlands, suggesting the purity of his breed, and reflects peace and calmness. It is synonymous with our natural environment and theme in the Tibetan Highlands which is a  "breath of fresh air".
Lanka is not territorial and contrary to popular belief these dogs are not fierce if properly domesticated. Lanka has many friends and carers who spend hours looking after him. He is calm around people and a great example to dog lovers worldwide.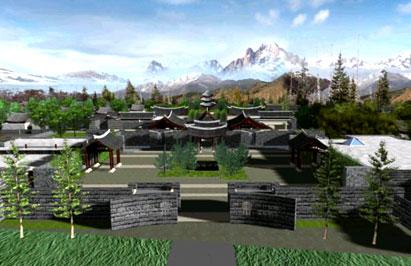 Book a stay at Banyan Tree Lijiang>>
---
Related Hotels