Vote for The Caretaker of the Islands of the Great Barrier Reef!
---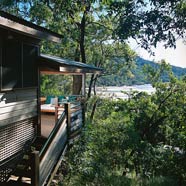 The global economic crisis has encouraged many a person to reinvent themselves. Or chuck it all and head to a remote island. Along those lines, Tourism Queensland has created a new post of
The Caretaker of the Islands of the Great Barrier Reef.
The Island Caretaker will be based on Hamilton Island – the largest inhabited island in the region. It's located just off the coast of Queensland with a wide range of restaurants, activities, shops and tours. The temperature is warm all year round and the combination of blue skies, crystal water and pure sands forms the backdrop to an ideal island life. Responsibilities include writing a weekly blog post, keeping a video diary and a photo gallery. Other duties could include sampling a new luxury spa treatment at qualia on Hamilton Island, trying out new snorkelling gear on Heron Island, or bushwalking on Hinchinbrook Island. Nice work if you can get it.
Queensland Australia is picking 10 finalists for The Best Job in the World, along with 50 wild-card finalists from 22 countries, including a charity fundraiser, dance instructor, physiotherapist, chef, radio DJ, scientist, actor, interpreter, adventurer, student, television journalist and photographer. Vote to see which wild card finalist scores an interview for this dream job.
---