InterContinental Celebrates 60 Years: Win a Copy of the InterContinental Kitchen Cookbook
---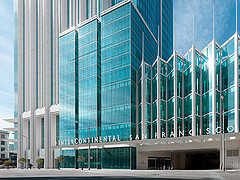 InterContinental is celebrating the big 6-0. 2009 marks the 60th birthday of the inaugural opening of the first InterContinental hotel, and in honor of the occasion, the folks at InterContinental have published a beautiful coffee-table cookbook,
The InterContinental Kitchen
, which reveals the secrets of some of the best dishes served up at InterContinental hotels across the world. The book celebrates international cuisine and the authentic food that's a reflection of local culture and a delicious way to experience a destination. Combining travel vignettes with recipes and tales, the book is a delicious (and pretty) treat for all those who enjoy the excitement of an InterContinental life.
Simply click here
for a chance to win a copy.
---