Take a Break and Head to the Breakers in Palm Beach
March 19, 2012By: Christopher Roney
---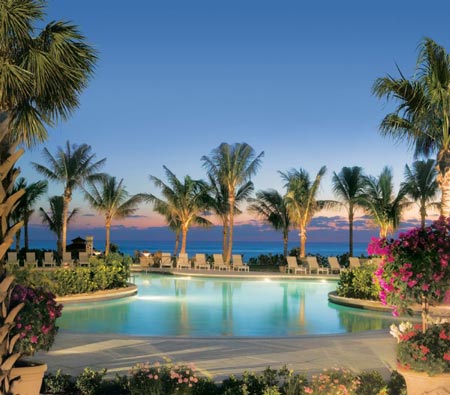 There are two things I love: One is a beautiful Renaissance-style Mediterranean hotel. The other is the spaciousness of Florida beaches. Actually, I'm pretty sure there's more than that, but these two seemed the most appropriate for the moment because I'm about to tell you about The Breakers in Palm Beach, FL. One thing about American hotels is that they have a style all of their own, and it's rare to see European sensibilities packed up and smuggled over international waters to find a home in good ole US of A. However, the breakers is a lovely exception to that rule. I'm not sure how they snuck it through customs, but The Breakers brings the Italian Renaissance to Palm Beach, and its 140 acres give that style the room to breathe that it has a little more trouble finding in its native Italy.
On the property, you can find 36 holes of championship golf, 10 tennis courts, a beach club, and an extensive children's club. All this has been registered as a National Historic Place, thanks to its 100+ year history in the hotel business. Fine dining, four oceanfront pools, and a full-service spa are all just an arm's reach away. Not only that, for the family-minded, the hotel can connect up to five rooms together, so you can be perfectly flexible finding the arrangement that works best for your party. As if that weren't enough, take to the seas and the skies with organized water sports, hot-air ballooning, or an air boat tour. It's almost too much take in in just one trip. So maybe you'll have to stay at The Breakers in Palm Beach twice.
Posted in:
North America
,
United States - South
,
West Palm Beach, FL
,
Luxury Spas
,
Beach and Island
,
Luxury Golf Resorts
,
What a Hotel!
---
Related Hotels