Condé Nast Traveler Gold List 2012: The Wolgan Valley Resort and Spa
---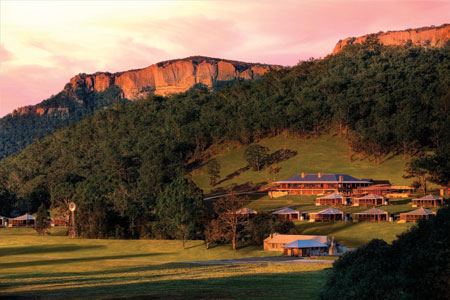 We understand that no one aims to come in second place; there is no recognition for mediocrity. We at Five Star Alliance understand better than anyone the importance of offering the most luxurious resorts in the world, so we notice what's going on in the industry, and it matters to us, because it matters to you. We work hard to offer you the best in the industry, and we'd like to welcome you to our second blog series where we feature the best and most luxurious resorts in the world. But don't take our word for it. These resorts have been recognized as the best in the business and have made the prestigious Condé Nast Traveler Gold List 2012.
The Condé Nast Traveler Gold List 2012 is the eighth of their annual lists, and the hotels chosen by their team of editors and experts are the best for service, food, location, rooms, leisure facilities, ambiance and design.
The Wolgan Valley Resort and Spa in Lithgow, Australia is featured on the Gold List 2012: Best for service. This hotel is Australia's most environmentally responsible tourist destination, and it's set amidst the striking scenery of the Greater Blue Mountains. This resort has its own private conservation and natural reserve, making it a perfect destination for travelers looking for a serene location. This boutique resort has 40 free-standing suites, each with its own private pool and terrace. Aside from privacy and tranquility, the Wolgan Valley Resort and Spa also offers a Timeless spa, world class dining with an emphasis on organic produce, and truly exemplary service. The hotel staff will happily assist you in any way they can, from organizing a horseback ride to planning a wildlife safari, this hotel has truly earned its best for service recognition.
---