A Peachy Recipe from the Shop at Andaz 5th Avenue Pastry Chef
---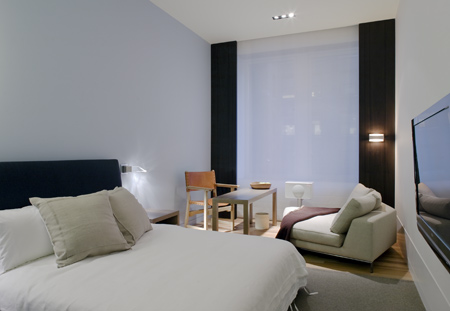 Sure, it's September, but we're still craving summer peaches. Lucky for us, New York Magazine has published a fabulous recipe, bringing together two of our favorites: Andaz 5th Avenue (the NYC hotel that's quite the crowd-pleaser) and that divine fruit of the gods. Try this sweet and spicy recipe from the pastry chef at the Shop at Andaz 5th Avenue, and prolong your summer just a little bit more...
Charmaine Mcfarlane's Peaches With Chiles, Sugar, Salt, and Lime

6 tbs. sugar, 2 tbs. salt, 2 Thai chiles (chopped), 2 limes, 6 peaches

Combine the sugar, salt, and chopped chiles in a mortar and pestle and grind to a consistency like wet sand. Zest the limes and reserve the fruit for another use. Stir zest into the sugar-salt-and-chile mixture. Halve the peaches by (1) slicing them along their seams and cutting through to the pits and around the fruits. (2) Gently twist until the halves separate. Remove pits. Blanch the peach halves for 45 seconds and remove to an ice bath for a minute. (3) Peel off the skins. Sprinkle peaches with the sugar-and-salt mixture and let macerate for half an hour. Serve with vanilla ice cream.
---