Hotel Mazarin Offers a Host of Complimentary Amenities
November 19, 2014By: K. Clare Johnson
---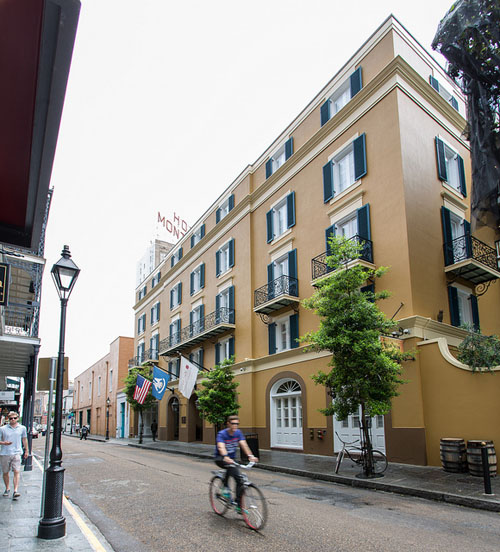 Hotel Mazarin takes its name from the famous European diplomat and Catholic Pontiff, Cardinal Jules Mazarin, a 17th century Italian-born statesman, gambler, aide-de camp to French royalty, Machiavellian scholar, chief financial minister to Queen Anne, and a longtime Regent of France on behalf of Louis the XIV. A Renaissance man and collector of fine wines and wealth, he designed the Mazarin Diamond, one of the first forms of the brilliant cut.

At the historic luxury hotel, the guestrooms are thoughtfully appointed to cater to the modern traveler while preserving New Orleans' signature charm. Hotel guests will enjoy a private courtyard setting with a Renaissance-inspired fountain, a 24-hour fitness center, and a business center.
Guests need only to step outside and enjoy the jazz resonating in the streets and galleries and shops just a half block away on Royal Street. The lively nightlife and music New Orleans is known for is on Bourbon Street, also just a half block away. Enjoy a nightcap at the only French Quarter wine bar, Patrick's Bar Vin or at the hotel's Prohibition-era inspired bar 21st Amendment at La Louisiane.
Guests enjoy the following amenities included in the room rate:

Wireless Internet access
Daily deluxe breakfast
Welcome cocktail at our 21st Amendment at La Louisiane
In-room bottled artesian water and coffee
Daily newspaper
Local calls

Additional amenities include:
Fitness center
Concierge service
Business center
Patrick's Bar Vin Wine Bar
21st Amendment Bar at La Louisiane
Valet parking (additional fee)
Special pricing is available to guests of the Hotel Mazarin for New Orleans airport transportation service
Book your stay at Hotel Mazarin >>
---
Related Hotels