Best Luxury Hotels in Tours
A 16th century chateau, transformed into a chateau-hotel, in the centre of a 60 hectare park, between Versailles and Chartres,...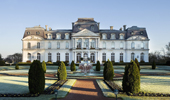 Perfume Millionaire Francois Coty Devoted His Entire Fortune To Build This Magnificent Chateau. Today Coty's Dream Turned Into...
In 1860 the famous publisher Panckoucke built a beautiful hunting lodge in a secluded tranquil parkland. Now, Panckoucke's hunting...