The World's Best

search_hotel_count

Luxury Waterfront Hotels in Albany, NY
Lake Placid, NY, United States

Lake Placid is the jewel of the Adirondacks, clear, cold and strewn with leafy islands; Lake Placid Lodge...
Lake Placid, NY, United States

Located just 30 minutes from I-87, in the majestic Adirondack Mountains of Upstate New York and the Olympic...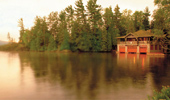 Saranac Lake, NY, United States

The Point is a world apart. An all-inclusive resort property on the edge of a shining mountain lake. A Great...