The World's Best

search_hotel_count

Luxury Romantic Getaway Resorts in Crete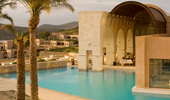 Nestled on the island of Crete, Blue Palace, a Luxury Collection Resort & Spa, Elounda is a luxury beachfront...
Along the azure coast of Elounda, on Europe's southern island of Crete is a resort designed to cover your...
Gracing The Northeast Coast Of Crete In The Bay Of Mirabello, The Elounda Bay Palace Offers Unrivalled Service,...
Set upon 40 acres of colorful gardens along the northeastern coast, Elounda Beach Hotel & Villas includes...
We are delighted to present you this family owned and run luxury boutique Villa-Hotel in the cosmopolitan...
Renowned for its genuine warmth and friendliness, the elounda mare hotel proudly upholds a tradition spanning...
Nestled on the northern shore of Greece's largest island, the Radisson Blu Beach Resort, Milatos Crete (formerly...