The World's Best

search_hotel_count

Luxury Private Getaways in Jeddah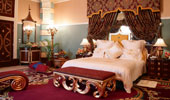 The Waldorf Astoria Jeddah- Qsar Al Sharq, is an Arabian palace offering an oasis of tranquility and luxury...
Sunday: Chinese Night. Wednesday: Asian Night. Thursday: Oriental & B.B.Q. Night. Friday: Family Lunch. ...
Dar Al Tawhid InterContinental Makkah is ideally located just footsteps from Al Haram and overlooking the...