The World's Best

search_hotel_count

Luxury Private Getaways in Krabi
The essence of Phulay Bay, A Ritz-Carlton Reserve is all about enlivening the senses. Guests will subtly and...
Though the beaches, islands, and coastal ambience are undeniable highlights of any visit to Krabi, the provincial...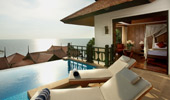 Where luxury accommodations coexist in perfect harmony with awe-inspiring natural landscapes, the resort will...