The World's Best

search_hotel_count

Luxury Historical Hotels in India
Discover a fascinating past and an enchanting present at Taj Umaid Bhawan Palace, perched high above the desert...
Khajuraho, Madhya Pradesh, India

With a total of 47 rooms, The LaLiT Temple View Khajuraho offers world-class comfort spread over accommodation...
If there lays heaven on earth, it is here and only here… in the state of Kashmir and with great pride, we...
Jodhpur's first boutique hotel, RAAS, comprises three new buildings in addition to the original four historic...
An architectural masterpiece, this luxurious hotel offers a grand staircase, marble pillars, and ornately...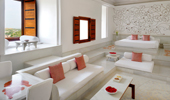 Udaipur, Rajasthan, India

RAAS Devi Gahr, Udaipur is a stunning hill-top palace that has been transformed into a luxurious, sophisticated...
lebua Resort Jaipur is a modern boutique hotel, spa destination, and event facility inspired by the area's...
Narendranagar, Uttaranchal, India

Located in the tranquil Himalayan foothills, close to the mythological cities of Haridwar and Rishikesh, surrounded...
Retrace the steps of Nizams, European royalty, enchanting Begums, distinguished Heads of State and walk the...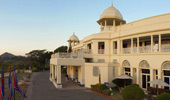 Udaipur, Rajasthan, India

Overlooking the Fateh Sagar Lake, The LaLiT Laxmi Vilas Palace Udaipur is located with the majestic Aravalli...
The Park in Chennai is an urban haven, located on Anna Salai in the heart of the business district of Tamil...
Who says that palaces and the royal life are a part of the past? Surely not those whom we have had the pleasure...