The World's Best

search_hotel_count

Luxury Eco Game Lodges in Nairobi
Choose your own brand of entertainment. This superbly equipped hotel has all the usual leisure facilities...
Mount Kenya, Nanyuki, Kenya

With magnificent views of majestic Mount Kenya, the Fairmont Safari Club's 115 luxuriously appointed guest...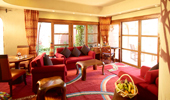 In The Shadow Of Mount Kilimanjaro, Africa's Highest Mountain, Beside A Copse Of Giant Acacia Trees And A...