The World's Best

search_hotel_count

Luxury Eco Game Lodges in United States - Northeast
Nantucket, MA, United States

There are 100 things to do here, which makes this luxury Nantucket beach resort ideal for family vacations...
Lake Placid, NY, United States

During the Great Camp era, the Northeast's most prominent families gathered their finest belongings and set...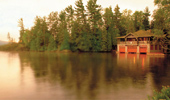 Saranac Lake, NY, United States

The Point is a world apart. An all-inclusive resort property on the edge of a shining mountain lake. A Great...