The World's Best

search_hotel_count

Luxury Country Estates in Marseille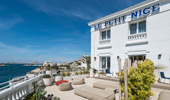 Nobody loves Marseilles more than the Passedat family. To love Marseilles means to love the Mediterranean,...
A place to discover the beauty of Aix en Provence, a journey where history and nature meet, in the extremely...
This delightful little luxury hotel is a stone's throw from the centre of Aix-en-Provence. This elegant...