The World's Best

search_hotel_count

Luxury Country Estates in Switzerland
When you stop to admire the splendor of the Matterhorn from the Grand Hotel Zermatterhof, you begin to understand...
The Dolder Grand is the perfect environment for people who are looking for pleasure, exclusivity and relaxation:...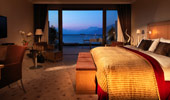 Le Mont-Pelerin, Montreux, Switzerland

High up the green slopes of Mont Pèlerin, among Switzerland finest vineyards, the newly renovated Le Mirador...
The Grand Resort Bag Ragaz offers two luxury hotels – Grand Hotel Quellenhof and Spa Suites and Grand Hotel...
There are still places in this world where sophisticated hospitality is a living tradition. Where you are...
The Giardino Hotel is located in the middle of the residential area of Ascona, in the perfectly quiet parklike...
Divonne Les Bains, France

In sight of Mont Blanc, at the base of the Jura Mountains, sits the Domaine de Divonne, one of the most exclusive...
The 4th Generation Of The Mayer Family Today Excels In Keeping Beau Rivage As A Quiet Oasis Where Privileged...
The HOTEL EDEN ROC was chosen as the best holiday hotel in Switzerland for the fourth time by business magazine...
An amazing 2,222 meters above sea level, the Riffelalp Resort 2222m offers a unique Alpine panorama and microclimatic...
Vitznau, Lucerne, Switzerland

The extensive renovation work at the Park Hotel Vitznau on the shores of Lake Lucerne has fully embraced the...