The World's Best

search_hotel_count

Luxury City Centre Locations in Shenzhen
What does luxury mean to you? Along with Kempinski Hotel Shenzhen, you will find that the ever exceptional...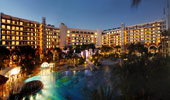 When InterContinental Shenzhen opened on the Shenzhen Bay Hotel site, it not only preserved the legend's...
Shenzhen, Guangdong, China

Rising high above the prestigious financial district in one of China's most burgeoning cities, The St. Regis...
Shenzhen, Futian District, China

Occupying a prized location in Shenzhen's new central business district of Futian, just steps from the Convention...
Shenzhen, Guangdong, China

Grand Hyatt Shenzhen hotel is situated in the Luohu district and is part of City Crossing, one of the most...
Located in the heart of Futian business district, Futian Shangri-La, Shenzhen, the second Shenzhen hotel for...
The award-winning Shangri-La Hotel, Shenzhen is ideally located in the Lo Wu district adjacent to the busy...
Surround yourself in the fast-paced business and international culture that permeates Shenzhen. Voted an...
The Panglin Hotel - Shenzhen is located in the heart of Shenzen, just 19 miles west of the Shenzhen Baoan...