The World's Best

search_hotel_count

Luxury Casino Resorts in Africa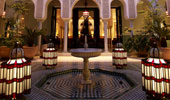 After a three-year, $176 million makeover, the Mamounia is reborn, more beautiful, more sumptuous, and more...
The Mena House is one of the most unique hotels in Cairo, with its own rich and colourful history. Surrounded...
Set among 60 acres of remote South African wilderness, this sprawling complex built in the crater of an extinct...
Es Saadi Gardens and Resort is set in the heart of the city of Marrakesh in an 8 hectares park with shaded...
A unique resort destination, Mazagan offers a variety of accommodation and activities choices: Rooms with...
Djibouti Palace Kempinski stands majestically at a prime beachfront location between the Red Sea and the...
Sun City, North West Province, South Africa

The Cascades Hotel is the grand old lady of South Africa's Sun City resort. Set amidst lush tropical...
The Conrad Cairo is located in the heart of Cairo and stands impressively above the River Nile, affording...
Note: The resort will close in February 2017 for this extensive renovation and will re-emerge in late 2017,...
A multitude of entertainment options characterise The Sun City Hotel in the heart of the Sun City complex....