LUXURY HOTEL INSIDER
The Luxury Hotel Insider
: Exclusive luxury hotel deals, features and special rates from the luxury hotel experts at Five Star Alliance.
Named one of Tripbase's
Best Luxury Travel Blogs for 2011
, below are Five Star Alliance's newest articles featuring exclusive information on luxury hotels worldwide including special offers and deals at the world's best hotels.
---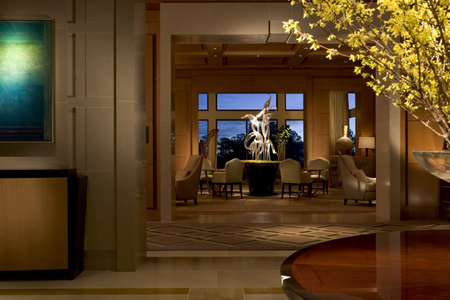 Spas are a funny thing. It's actually amazing to think that we live in a world full of all the modern luxuries, and yet we have to pay to escape to a simpler, more relaxed experience. The spa is just that, too, quintessentially an escape, retreating inward to recharge the mind and the body during a moment's respite from the bustle of modern life. But, the fact remains, many of us are in desparate need of that retreat, and if you're looking to get away from everything, there's no better destination than the Umstead Hotel and Spa in Cary, NC.
The hotel itself is gorgeous, was built in 2007, and features 228 oversized luxury guest rooms with all the modern amenities: flat screen TVs, Rivolta Italian linens, and many with balconies overlooking the natural flora. World-class dining and a great respect for the local culture accent the property, with local artists featuring prominently and the down-home hospitality a guarantee.
The real crowning jewel of the hotel is the spa. The two-story building adjacent to the property offers ten treatment rooms where you can find the perfect personalized relaxation technique to wash the stress out of your body. A meditation courtyard, whirlpools, and a steam room offer alternative ways to rejuvenate and recharge and the naturally lit interior spaces soothe the eyes as much as they do your soul. The Umstead Hotel & Spa really is a wonderful place ot slough off your East Coast woes and embrace the healing powers of a day all to yourself.
---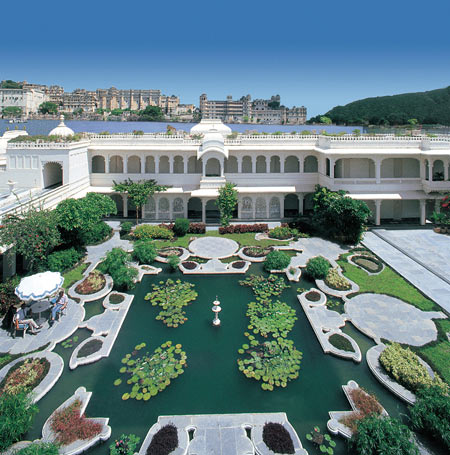 The Taj Lake Palace has long been in our category of super luxury, and it's certainly one of the most beautiful hotels in our collection. And now, it's getting some celebrity recognition, thanks to hotshot designer Diane von Furstenberg. She recently stayed at the hotel and declared it possibly the 'best hotel in the world.' A woman with an eye for fashion, her approval certainly counts a little more than the average bear's. While the superlative might be a bit hyperbolic and a few other hotels give it a run for its money, I can't imagine experiencing anything less than the sublime at the Taj Lake Palace.
The white marble palace seems to be suspended above the waters of the surrounding lake, where the Maharana lived and entertained at his summer palace. Ceremonial barges and private dinner-pontoons promise to whisk you away to a land of enchantment, and the breathtaking gardens and lily ponds are the perfect setting for romance. If you can't trust me, then take the word of Diane von Furstenberg, and stay at the Taj Lake Palace in Udaipur.
Via HotelChatter.
---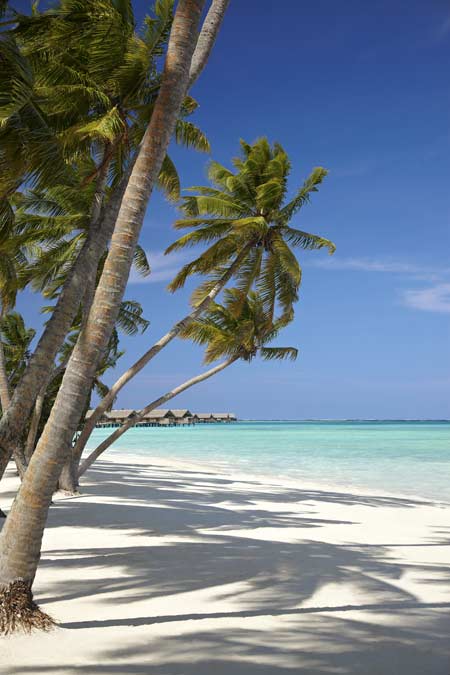 The Maldives are well-known for being one of the few places in the world you can find overwater bungalows, largely because the water is calm and pristine enough to support the fragile construction they require. But in the land of floating villas, the Shangri-La Villingili Resort and Spa Maldives is looking to make a name for itself in another way. Rather than send their villas out into the water, they've taken to the foliage, their tree house villas nestled in the beachfront palm fronds that every child learns to draw at the age of 5 as foreshadowing of their future desire to stay at a place like this.
The resort plays home to all the features that the luxury traveler has come to expect. Khazaanaaga, a divided, on-site restaurants give you options from the South China Sea, Arabian Gulf, and Indian Ocean, and Javvu gives you the more Western choice and cafe-style dining during the day. CHI, the Spa at Shangri-La offers every treatment you could ever want while relaxing on a sandy beachfront and is inspired by traditional Chinese and Himalayan spiritual and physical wellness. A children's adventure zone, two tennis courts, and an Eco centre that allows you to explore the local flora and fauna even after you've come back from any of 25 dive sites, including a British shipwreck. The Shangri-La Villingili Resort and Spa is just about everything I'm looking for in a beachfront property.
---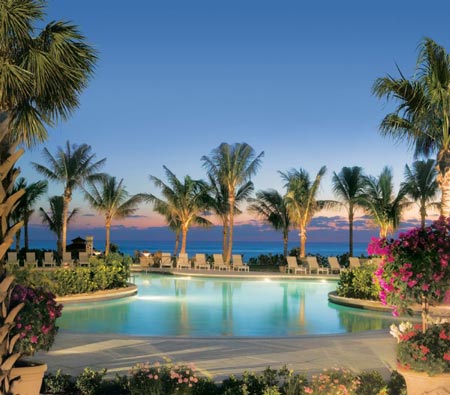 There are two things I love: One is a beautiful Renaissance-style Mediterranean hotel. The other is the spaciousness of Florida beaches. Actually, I'm pretty sure there's more than that, but these two seemed the most appropriate for the moment because I'm about to tell you about The Breakers in Palm Beach, FL. One thing about American hotels is that they have a style all of their own, and it's rare to see European sensibilities packed up and smuggled over international waters to find a home in good ole US of A. However, the breakers is a lovely exception to that rule. I'm not sure how they snuck it through customs, but The Breakers brings the Italian Renaissance to Palm Beach, and its 140 acres give that style the room to breathe that it has a little more trouble finding in its native Italy.
On the property, you can find 36 holes of championship golf, 10 tennis courts, a beach club, and an extensive children's club. All this has been registered as a National Historic Place, thanks to its 100+ year history in the hotel business. Fine dining, four oceanfront pools, and a full-service spa are all just an arm's reach away. Not only that, for the family-minded, the hotel can connect up to five rooms together, so you can be perfectly flexible finding the arrangement that works best for your party. As if that weren't enough, take to the seas and the skies with organized water sports, hot-air ballooning, or an air boat tour. It's almost too much take in in just one trip. So maybe you'll have to stay at The Breakers in Palm Beach twice.
---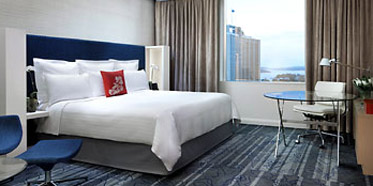 Looking for a true Aussie experience in the heart of Sydney? Say G'day to the newly refurbished Sydney Harbour Marriott at Circular Quay. Recently honored in the Conde Nast Traveler and Travel + Leisure's World's readers' surveys, Sydney Harbour Marriott is located at Circular Quay and is just minutes away from the world-famous Harbour Bridge, Opera House, Botanical Gardens, Sydney Aquarium, and the on-trend Rocks district.
Guests will enjoy spectacular city and harbour views from all 563 spacious and contemporary rooms and suites. The new guestrooms are spacious and contemporary, with an exquisite attention to detail, featuring luxurious Revive bedding with 300-thread-count linens, fluffy pillows, and down duvets. The renovation also means that the Sydney Harbour Marriott at Circular Quay is equipped with world class technological advancements such as high speed wireless internet and top-of-the range electronics in each room.
Five-star dining is available in the hotel at Icons Brasserie. Enjoy a breakfast buffet under the natural light of huge arched windows at Icons or treat yourself to Sydney's best seafood buffet. Take advantage of the harbour breezes when you sit outside at the historic Customs House Bar, built in 1826. Customs House Bar is a traditional Australian pub, and one of the oldest in Sydney.
Unwind at the day spa, or fit in a workout at the fitness center. Business travelers will appreciate the 18 meeting rooms boasting over 15,000 square feet of meeting space. Whatever the reasons that bring you to Sydney, Sydney Harbour Marriott at Circular Quay will be sure to meet (and surpass) your luxury hotel needs.
This article is sponsored by Sydney Harbour Marriott at Circular Quay.
---
We understand that no one aims to come in second place; there is no recognition for mediocrity. We at Five Star Alliance understand better than anyone the importance of offering the most luxurious resorts in the world, so we notice what's going on in the industry, and it matters to us, because it matters to you. We work hard to offer you the best in the industry, and we'd like to welcome you to our second blog series where we feature the best and most luxurious resorts in the world. But don't take our word for it. These resorts have been recognized as the best in the business and have made the prestigious Condé Nast Traveler Gold List 2012.
The Condé Nast Traveler Gold List 2012 is the eighth of their annual lists, and the hotels chosen by their team of editors and experts are the best for service, food, location, rooms, leisure facilities, ambiance and design.
The Mena House Oberoi in Cairo, Egypt is featured on the Gold List 2012: Best for location. This luxury hotel is phenomenally located in the shadows of the Great Pyramids of Giza. It is surrounded by 40 acres of beautiful gardens, and it is only 700 meters from the Pyramid of Cheops. This hotel was built in 1869 and has been drawing visitors in to experience the traditional and modern aspects of Cairo. The Mena House Oberoi is furnished with original art and antiques resembling a royal residence set among palms and jasmine. Be sure to check out the Mena House Oberoi and visit this luxurious oasis set in the most phenomenal spot!
---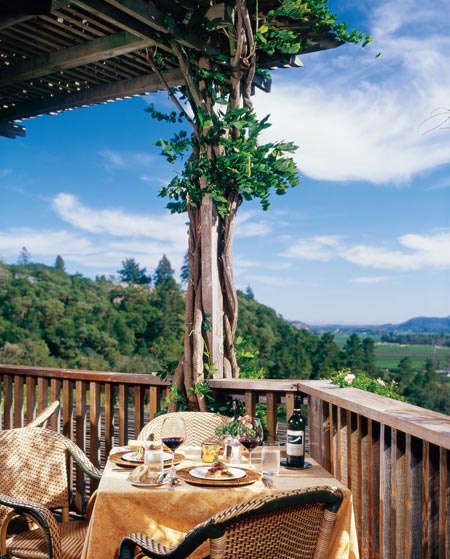 You read the title correctly. Today we're not exploring what wine compliments Alaskan Salmon or risotto; we're bringing you recommendations of which wine goes best with various Girl Scout Cookies. Kris Margerum, the wine director at Auberge du Soleil in Napa Valley has gone through the vast 17,000 bottle wine cellar to suggest the absolute best wine-cookie pairings. Check out the pairings below and enjoy the adult, edgy rendition of Girl Scout Cookies.
Savannah Smiles go best with a 2010 Dr. Loosen 'Bernaksteler Lay' Riesling-Kabinett. As stated by Kris Margerum and reported on HotelChatter, ""The lemon notes and powder sugar create an amazing match with this off-dry, high- acid white wine."
Trefoils-Old Fashioned Shortbread go best with the 2007 Schramsberg Blanc de Noirs Sparkling Wine. "The creamy richness of the shortbread is balanced by the fresh lively notes of the Sparkling Wine."
Dosidos-Peanut Butter Cremes go best with a 2009 Schloss Gobelsburg Gobelsburger Zweigelt. "The light bodied and fruity Zweigelt paired with the Do-Si-Dos brings home the flavors of peanut butter & jelly."
Samoas go best with a Graham's 20-Year Tawny Port. "The coconut is an ideal blend with the oak-aged port, while the Noval Vintage Ruby Reserve Port is rich enough to match the chocolate and mint flavors of the popular Thin Mints."
Tagalongs-Peanut Butter Patties go best with Rare Wine Company's "Imperial-Old Reserve" Malmsey Maderia, "Nothing goes better with sweet Maderias than chocolate and nuts."
We certainly encourage you to explore the room types, rates, and photos of the Auberge du Soleil here! Make your reservations today and get ready for an incredible time in phenomenal wine country, cookies and all!
This article originally appeared in HotelChatter.
---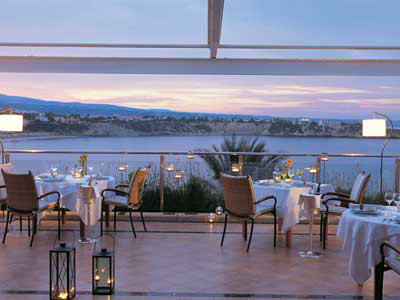 I have a special place in my heart for tiny boutique hotels. It may be a little smaller than some of the other chambers, and there aren't enough spots for everybody, but that just makes the few who do make their way into my good graces all the more special. I can give each and every one the loving care and attention they deserve. And thus began my new segment on boutique hotels that I just adore.
I'm not sure what it is about the Mediterranean. Maybe it's the fresh sea air or the cradle of Western civilization lying under your feet, but it always feels like coming home. And in the spirit of carrying an analogy too far, if the Mediterranean is like home, then the Thalassa Boutique Hotel & Spa is being curled up in your bed under the covers on a cold winter's night. Except with a view. And spa treatments. So it's completely unlike that analogy. Another thing it's unlike is my writing ability, which is slowly collapsing like a flan in a cupboard. But what the Thalassa Boutique is like is an island oasis, a heavenly spa, where every suite is served by a personal butler and you can slough off the cares of the world as the pigment in your skin darkens from the soft, Mediterranean sun. It's six millenia of relaxation crystallized into a seaside retreat, begging you to forget yourself in its warm embrace. And when I'm looking to run away from the world, I want a spa hotel where every room gives a perfect view of the sun slipping under or out from the horizon and kids are rarely seen (and none under 12). Surrounded by sea on three sides and with the sandy beach just steps away, I can't imagine a better place to get away than the Thalassa Boutique Hotel & Spa. In fact, just writing this convinced me to go there right now. Bye.
---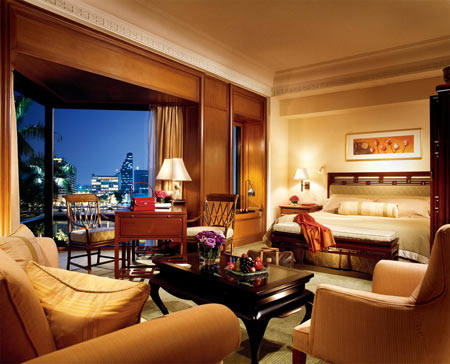 Looking for a place to stay along the Chao Phraya riverfront in Bangkok? Well, look no further than the Peninsula Bangkok. The 370-room super luxury hotel was voted the world's best in 2003 and has kept up its best-of-the-best presentation since. Guests are treated to uninterrupted panoramic views of the river and city, and with a beauty spa and fine dining on site, you'll find little need to leave the hotel if you desire not to. Pick from any of four restaurants: traditional Cantonese at Mei Jiang, homestyle Thai at Thiptara, international buffet at River Cafe & Terrace, and Pacific Rim at Jesters. And once you've satiated your body, satisfy your mind by relaxing in a wonderful three-tiered swimming pool. Maintain the careful balance by adjusting the custom environmental controls in your chich but classical room. The Peninsula Bangkok really is my choice to stay for my next trip to the city.
---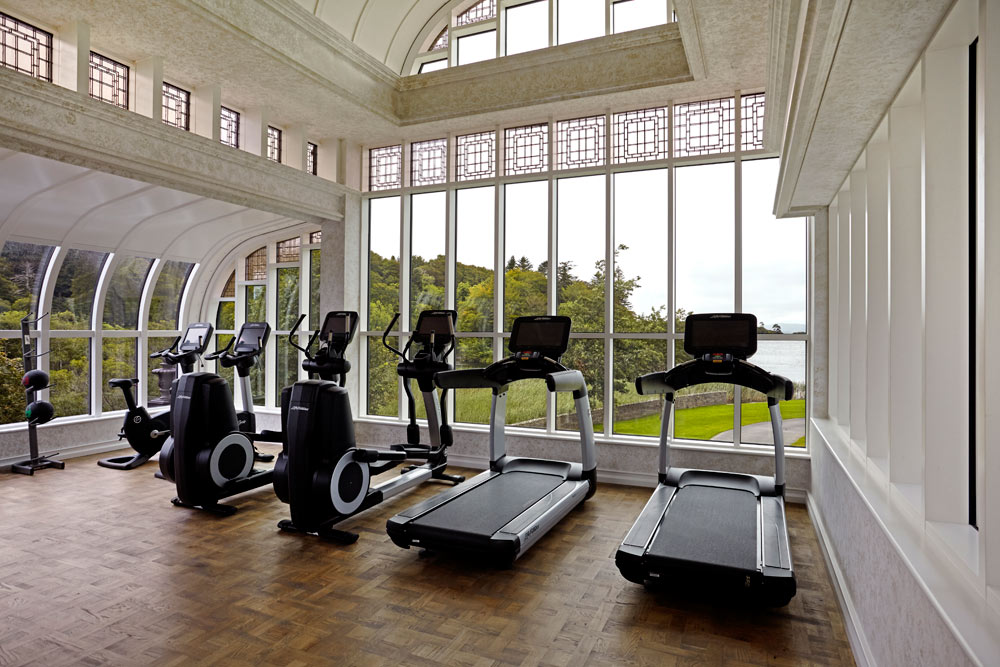 Before it became one of the most renowned castle hotels in Europe, the Ashford Castle was the home to the Guinness family, to which all of the beer drinkers among us owe a serious debt of gratitude. I think I need not explain more, for we all know Guinness's enchanting charm. Built originally in the 13th century, the estate holds over 350 acres of private land and has played host to the rich and famous, including President Reagan and Pierce Brosnan, who married there. You could end up feeling just as cool as the agent himself while staying in rooms that combine a preserved 13th century style with all of the modern amenities of top-notch hotels. Resident Chef Stefan Matz offers four unique dining experiences on the property that make innovative use of traditional Irish fare; you'll be stepping into a world where meat and potatoes are anything but meat-and-potatoes. A dedicated spa featuring the products and philosophy of Yan Ka, meant to help the skin regain its vital balance and energy.
Alongside the property lies the second-largest Irish lake, the Lough Corrib, whose idyllic shores offer unparalleled views as well as a number of outdoor activities. Miles of hiking trails are available through the countryside, and a 9-hole golf course, designed by legend Eddie Hackett, features prominently. Fishing and hunting are available on the grounds, with Lough Corrib offering some of the best in Ireland during May, June, and July. Not only that, you can enjoy a jacuzzi, sauna, and steam room alongside your beauty treatments, and then refresh in the crisp lake air on any one of three daily lake tours. The Ashford Castle is truly one of the jewels of Ireland.
---