LUXURY HOTEL INSIDER
The Luxury Hotel Insider
: Exclusive luxury hotel deals, features and special rates from the luxury hotel experts at Five Star Alliance.
Named one of Tripbase's
Best Luxury Travel Blogs for 2011
, below are Five Star Alliance's newest articles featuring exclusive information on luxury hotels worldwide including special offers and deals at the world's best hotels.
---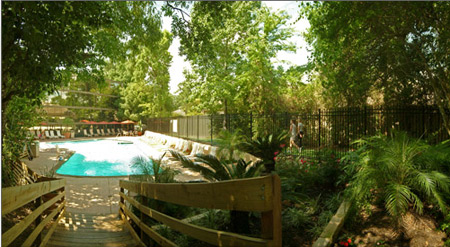 The Houstonian Hotel Club and Spa is a special kind of retreat. Boasting one of the largest hotel fitness clubs in the US, the Houstonian Club has over 30 certified personal trainers and its 125,000 square feet of space features a rock-climbing wall, three resort pools, a boxing ring, eight tennis courts, and a full gymnasium court. If you want your hotel to come with a sports complex, then the Houstonian is right for you. Not only that, the Houstonian's spa, Trellis, offers more than 100 different treatment options and an indoor float pool alongside all of the traditional spa options.
Despite its premium facilities and total self-sufficiency, the Houstonian Hotel Club and Spa manages to hide itself from the greater Houston metropolis. Houston has a wonderful 18-acre forest in its heart, and it is within this oasis of serenity that the Houstonian lies. You get all the convenience of the city with the atmosphere of the countryside. Its 288 rooms are adorned with floor-to-ceiling windows which provide unparalleled views of the surroundings. It's serene, subtle, and full of the options that every sort of luxury travel is looking for, from business to leisure. The Houstonian Hotel Club and Spa is a unique expansion of the standard hotel facilities, and it helps it stand out from the crowd.
---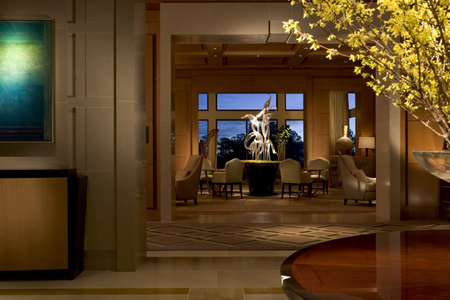 Spas are a funny thing. It's actually amazing to think that we live in a world full of all the modern luxuries, and yet we have to pay to escape to a simpler, more relaxed experience. The spa is just that, too, quintessentially an escape, retreating inward to recharge the mind and the body during a moment's respite from the bustle of modern life. But, the fact remains, many of us are in desparate need of that retreat, and if you're looking to get away from everything, there's no better destination than the Umstead Hotel and Spa in Cary, NC.
The hotel itself is gorgeous, was built in 2007, and features 228 oversized luxury guest rooms with all the modern amenities: flat screen TVs, Rivolta Italian linens, and many with balconies overlooking the natural flora. World-class dining and a great respect for the local culture accent the property, with local artists featuring prominently and the down-home hospitality a guarantee.
The real crowning jewel of the hotel is the spa. The two-story building adjacent to the property offers ten treatment rooms where you can find the perfect personalized relaxation technique to wash the stress out of your body. A meditation courtyard, whirlpools, and a steam room offer alternative ways to rejuvenate and recharge and the naturally lit interior spaces soothe the eyes as much as they do your soul. The Umstead Hotel & Spa really is a wonderful place ot slough off your East Coast woes and embrace the healing powers of a day all to yourself.
---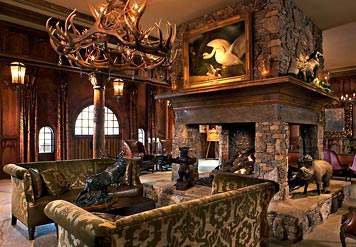 The big hit movie the Hunger Games was filmed in Asheville, North Carolina, and this southern town is certainly drawing in quite the crowd because of it! The town of Asheville has two 5-star hotels properties and one 4-star hotel. Read on below to explore these luxury hotel options and choose the one that is most suitable for you and your Hunger Games needs!
The Grove Park Inn Resort and Spa
This is one of the most popular hotels on our site, and it is one of the South's best loved resorts. It offers beautiful views of the Blue Ridge Mountains, and it overlooks the city of Asheville. The property has a 40,000 square foot spa, a restored golf course, tennis courts, indoor and outdoor pools, child programs, and much more.
Grand Bohemian Hotel Asheville Autograph Collection
This boutique hotel is located in the famous Biltmore Village, and it's set among the beautiful Blue Ridge Mountains. Its 104 rooms and suites have personal touches including stone flooring and custom bedding. This hotel has a fine dining restaurant, spa, lounge, and art gallery all easily accessible and readily available. Experience the elegance of the Old World at this charming and rustic boutique hotel.
This 4-star hotel is located on top of Reed Hill, above Biltmore Village. It offers a 360 degree view of the mountains and overlooks the Village and Swannanoa River Valley. This charming, small boutique hotel only has 7 rooms in 2 buildings, so you can expect an extremely personal stay.
Explore these hotel options and be sure to visit the beautiful town of Asheville to get an even more personal connection to the Hunger Games!
Posted in:
North America
,
United States - South
,
Asheville, NC
,
Featured Luxury Hotels
,
Adventure/Ecotourism
,
Travel with Kids
,
Luxury Spas
,
Hot Spots
,
Luxury Suites
,
Events
,
Historic Hotels
---
The National Cherry Blossom Festival is approaching full bloom here in Washington, DC, and we simply cannot wait for all of the events and activities in store. In 1912, 3,000 cherry blossom trees were given as gifts to Washington, DC from Tokyo, Japan. A century later, the National Cherry Blossom Festival is gearing up for its upcoming festivities, celebrating international companionship and the beauty of nature. This is the 100th anniversary of the cherry blossoms, and the District of Columbia is certainly going all out with its events. Be sure to make your luxury hotel reservations and take part in all of the excitement in our nation's capital!
The National Cherry Blossom Festival goes from March 20th – April 27th, 2012. A few must-check-out events include the Blossom Kite Festival on March 31st, the Southwest Waterfront Fireworks Festival on April 7th, the National Cherry Blossom Festival Parade on April 14th, and Jazz at the Jefferson on April 19th. For more information on these events, visit the official National Cherry Blossom Festival Events page.
For accommodations, we encourage you to explore the 37 luxury hotels we have in the Washington, DC area. If you're hoping to be located on or near the National Mall and in the heart of all the action, be sure to take advantage of and explore the list of options available to you here!
Photo courtesy of the NationalCherryBlossomFestival.org
Posted in:
North America
,
United States - South
,
Washington, DC
,
Adventure/Ecotourism
,
Travel with Kids
,
Luxury Spas
,
Museums
,
Luxury Suites
,
Luxury Shopping
,
Festivals and Concerts
,
Events
,
Historic Hotels
---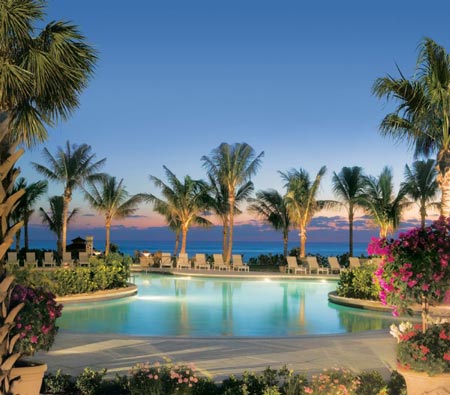 There are two things I love: One is a beautiful Renaissance-style Mediterranean hotel. The other is the spaciousness of Florida beaches. Actually, I'm pretty sure there's more than that, but these two seemed the most appropriate for the moment because I'm about to tell you about The Breakers in Palm Beach, FL. One thing about American hotels is that they have a style all of their own, and it's rare to see European sensibilities packed up and smuggled over international waters to find a home in good ole US of A. However, the breakers is a lovely exception to that rule. I'm not sure how they snuck it through customs, but The Breakers brings the Italian Renaissance to Palm Beach, and its 140 acres give that style the room to breathe that it has a little more trouble finding in its native Italy.
On the property, you can find 36 holes of championship golf, 10 tennis courts, a beach club, and an extensive children's club. All this has been registered as a National Historic Place, thanks to its 100+ year history in the hotel business. Fine dining, four oceanfront pools, and a full-service spa are all just an arm's reach away. Not only that, for the family-minded, the hotel can connect up to five rooms together, so you can be perfectly flexible finding the arrangement that works best for your party. As if that weren't enough, take to the seas and the skies with organized water sports, hot-air ballooning, or an air boat tour. It's almost too much take in in just one trip. So maybe you'll have to stay at The Breakers in Palm Beach twice.
---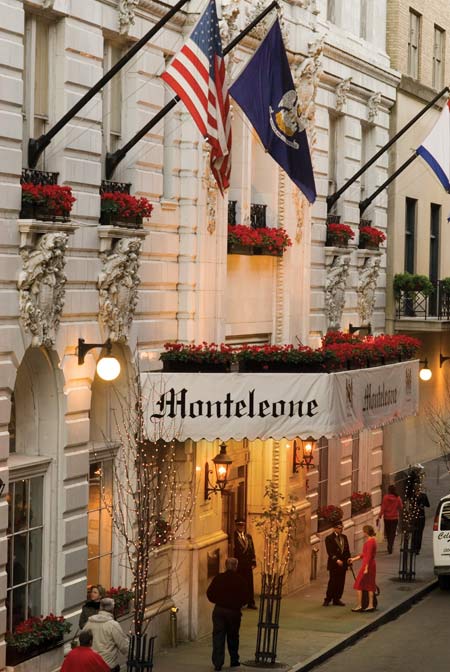 For all of you Mad Men lovers crossing off days until the fifth season premiere (10 days and counting), we certainly have an exciting opportunity to transport you back to the swinging sixties. Hotel Monteleone, a luxurious hotel in the French Quarter of New Orleans is hosting a Mad Men party at its Carousel Bar and Lounge. The event will feature a fashion show with clothes from Banana Republic, Haute Dames, and Retro Active Vintage. Complimentary 60s cocktails will be served and provided by Republic, and as an incredibly special treat, Bryan Batt, a former Mad Men star will serve as host and costume contest judge.
Interested? Read on for party details as well as a bit more information about the Hotel Monteleone. The party will take place March 20th from 6:00pm – 8:00pm at the Carousel Bar and Lounge. It is free and open to the public, and prizes will be awarded for the best 60s era attire.
The Hotel Monteleone has recently undergone a $70,000 restoration, transforming it back to its original stature as New Orleans Grand Hotel. Its 600 luxurious guestrooms are modernly equipped without losing the traditional and welcoming feel. Its award winning restaurant, Carousel Bar and Lounge has recently celebrated a renovation as well, and it now features expansive windows along Royal Street, updated furniture, and a second crescent-shaped bar.
So whip out your 1960s dresses, polish your dancing shoes, and make your reservations for the Hotel Monteleone today to take part in all the fun!
Posted in:
United States - South
,
New Orleans, LA
,
Romantic Travel
,
Food and Wine
,
Luxury Spas
,
Museums
,
Luxury Shopping
,
Fashion
,
Events
,
Casino Hotels and Resorts
---
The Mansion on Peachtree a Rosewood Hotel is soon to be rebranded as a Mandarin Oriental. This luxury hotel is centrally located at the intersection of Peachtree and Stratford Road in Buckhead, towering high in the Atlanta skyline. The location provides easy access to phenomenal restaurants, shopping, and city attractions. The hotel and residences will be in the slender 42-story property crafted from classically inspired limestone and cast stone for dramatic effect, and the spa facility will feature 14 treatment rooms that will offer Mandarin Oriental's signature products and therapies. The development plan includes 25 luxury homes that will occupy floors 25 – 42. Make your reservations at the Mansion on Peachtree a Rosewood Hotel soon, and then be sure to explore the new Mandarin Oriental property once it's up and running!
---
The big boss and his bold hair are coming to Doral Miami. The deal on the Marriott Doral Golf Resort and Spa has been signed, sealed, and delivered, and that means that Mr. Trump will be overseeing an extensive summertime renovation to herald the change in management. The property's facelift will ensure that it equals and then surpasses the luxury of the currently 4-star resort, and we can't wait to see what he'll do with the place. Large-scale investment is just what a property like the Doral Golf Resort needs, and that means we'll be following closely as the restoration begins in June. The hotel will remain open during its low season, but the updated property should be fully ready as things start to pick up in the fall.
With the renovation and refurbishment, the property should see rates rising as high as the increased expectations. Expect to seem increase to be commensurate with rates you'll see at other Trump properties. Be sure to keep on the lookout for updated rates and availability for the Doral Golf Resort and Spa.
---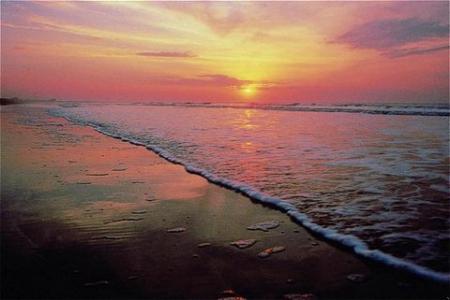 Springtime is on the offensive on the East Coast, and that means one thing: Time to break out the clubs. Golfing weather is looking like it's here to stay in South Carolina, and that means the closely cropped greens and devilish sand traps are calling your ball in equal measure, like the angel and devil of so many cartoons. It's time to break out your woods and irons for the spring season and put your other sets away. Maybe you were playing Settlers of Catan? I don't know. This whole analogy thing is harder than a brick wall. No, no, a diamond. Wait, maybe the Ko'olau Golf Club in Oahu. There we go; now it's topical. Anyway, I can't think of a better place to enjoy the newly found weather than on five championship courses of the Kiawah Island Golf Resort.
Home of the 1991 Ryder Cup and 1997 and 2003 World Cups of Golf, you're getting a top class playing experience in one of the most breathtaking regions on the eastern seaboard. And between games, you can relax along ten miles of romantic beaches or head out in search of the other sorts of eagles, who have nested in the region for centuries. This Conde Nast Award winner even has three pool complexes and a child program available to keep the tiny tots out from underfoot while you're swinging a large metal rod around. The Kiawah Island Golf Resort and accompanying Sanctuary at Kiawah Island are natural, beautiful, and definitely in season, so it might be worth planning a trip this spring.
---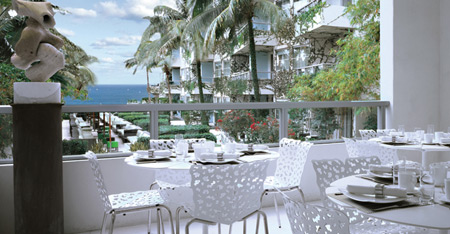 In celebration of Miami being crowned the country's Vainest City, the Sagamore is offering a special We're Sexy and We Know It package, so you to can join in on some well-deserved self-aggrandizement. The Living Social poll, which used highly rigorous scientific methods and also math, reports that Miami citizens consider themselves to be the most attractive people. Now it could be that in strange confluence of events, all the hot people in the US have decided to get together and hang out and have incredibly good-looking parties and super sexy bake sales, but it's more likely, and Living Social agrees, that Miami is just a land of high opinions.
Since we could all use a little self-esteem boost now and then, the Sagamore's offer is the perfect way to get in on the action. Why else would we go to one of the best 5-star beachfront properties if not to feel like we're a star? And with this kind of deal, you can't go wrong. With this package, you'll get
- Hair-styling and a scalp massage for two at the Muse Beauty Suite
- Two "Sexy on the Beach" cocktails
- 10% discount on your accommodations
- 1:00pm late checkout for an extra chance to relax
Book at the Sagamore today to show the world just how sexy you are.
---