LUXURY HOTEL INSIDER
The Luxury Hotel Insider
: Exclusive luxury hotel deals, features and special rates from the luxury hotel experts at Five Star Alliance.
Named one of Tripbase's
Best Luxury Travel Blogs for 2011
, below are Five Star Alliance's newest articles featuring exclusive information on luxury hotels worldwide including special offers and deals at the world's best hotels.
---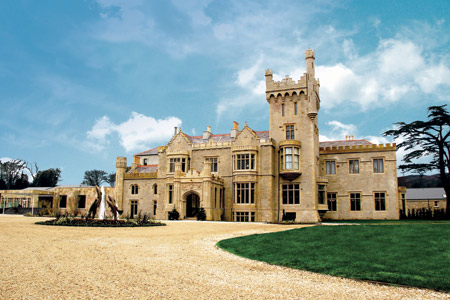 We understand that no one aims to come in second place; there is no recognition for mediocrity. We at Five Star Alliance understand better than anyone the importance of offering the most luxurious resorts in the world, so we notice what's going on in the industry, and it matters to us, because it matters to you. We'd like to welcome you to our new blog series, Best of the Best, where we'll be featuring the best and most luxurious resorts in various categories. But don't take our word for it. These resorts have been recognized as the best in the business by the prestigious World Luxury Hotel Awards, so you can relax and stop worrying about your upcoming trip, knowing that it truly will be the best of the best.
Today's featured locale is the Solis Lough Eske, recipient of the Best Luxury Countryside Hotel award in 2011, or should we say "best castle"? Located just outside of Donegal Town, Ireland, the Solis Lough Eske Castle is on the water's edge of Lough Eske and surrounded by the incredible Blue Stack Mountains. Like escaping into a fairytale, the Solis Lough Eske Castle has its spa facility located in the castle garden, providing you with every opportunity to relax and take in the natural beauty of Ireland. Looking for a thrill? The Solis Lough Eske Castle offers some of the best hiking, mountain biking, and surfing in all of Ireland. Whether you're looking for some peace and quiet or an adventure, the Solis Lough Eske Castle is the perfect and best destination for an escape into the magnificent countryside of Ireland.
Posted in:
Europe
,
Ireland
,
Donegal
,
Featured Luxury Hotels
,
Adventure/Ecotourism
,
Luxury Spas
,
Hot Spots
,
'Best Of' Lists
,
Luxury Golf Resorts
,
Our Favorite Sites
,
Historic Hotels
---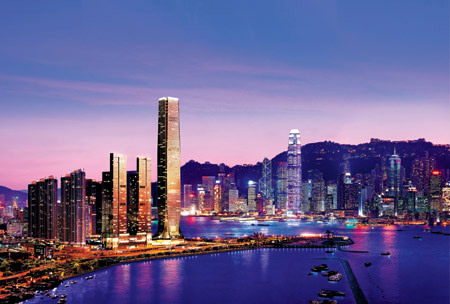 The 2011 World Luxury Hotel Awards have announced their Global Winners across a variety of categories, and we're confident that each of these hotels represents the finest in luxury accommodations. We'll be spotlighting many of these individually in the coming weeks and offering our critical commentary, but for now, take a look at the winners such as the Ritz Carlton Hong Kong, winning Best Luxury Hotel overall, and the Sandals Royal Plantation, the Best Luxury Island Resort.
Click here to check out the full list of best hotels, listed alphabetically by location so you can find the names of the top hotels in your vacation spot of choice, and search here if you're interested in booking any of the top hotels of 2011.
Posted in:
North America
,
Central & South America
,
Bermuda & The Caribbean
,
Europe
,
Asia
,
Africa
,
Middle East
,
Australia & The South Pacific
,
Hong Kong
,
Articles
,
Business Travel
,
Beach and Island
,
Hot Spots
,
'Best Of' Lists
,
Our Favorite Sites
,
Events
,
Casino Hotels and Resorts
---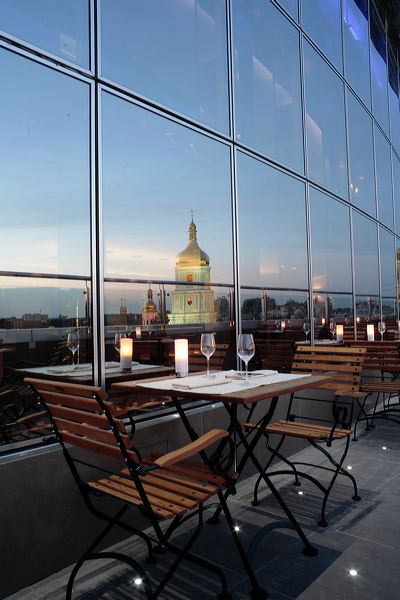 Ukraine (or Ykraina, as it is pronounced in the majority of the world), is a country that has some of the most incredible, lush hills rolling throughout its countryside and beautiful cobblestone roads throughout its cities. Granted, being Ukrainian myself, I'll admit that I'm slightly biased, but I guarantee you'll be awestruck by all Ukraine has to offer. Still don't believe me? I challenge you to visit the Breadbasket of Europe and see for yourself!
Kiev, Ukraine's capital offers everything and anything from fascinating museums, theaters, and ancient ruins, to contemporary buildings and breathtaking cathedrals. A wonderful hotel to consider for your stay in Ukraine is the Hyatt Regency Kiev. This luxurious hotel is located in the heart of the capital and is surrounded by the culture and history of Kiev's Old Town. Consider exploring Saint Michael's Golden-Domed Monastery and one of Kiev's most recognized landmarks, Saint-Sophia's Cathedral. Both attractions are walking distance from the Hyatt Regency Kiev. After a day of exploring the most beautiful monasteries and cathedrals in the world, consider perusing the diverse boutiques and shops on Kreshchatyk Street, where you'll find gifts and articles of clothing unique to Ukraine. Hoping to bring your kid(s) on your travels? The Hyatt Regency Kiev offers a phenomenal brunch on Sundays, complete with a children's playground, paint lessons, magicians, clowns, puzzles, and toys. Speaking of food, be sure to order pierogies (cheese and potato dumplings), and olivye (salad) during your visit, two of Ukraine's typical dishes that will complete your stay in the best country in the world!
---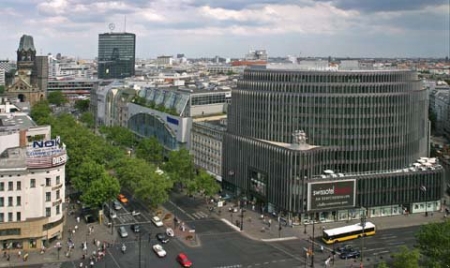 No matter how many blog posts, review sites, and travel brochures you read, nothing can compare to personal experience of a city. I want to share some of that first-hand experience with you, not as an expert, but as one traveler to another. In each installment, I'll share my experience of a city I've lived in or explored extensively. And to start things off, there's no better first destination than Berlin.
Berlin is a city so full of personality it's impossible to begin talking about it having any sort of unified character. In a lot of ways, Berlin is at the crossroads of modernity – because it was forced to rebuild so much in the last twenty years, it is at the forefront of new technologies and environmental policy, but all you need do is turn around to see the past. Sleek and modernized around the bombed out remains of history, an underground life bustles below the veneer of its tourist-friendly city center. Each neighborhood seems to be an oasis with a distinct personality from any other. But the pulse of a conflicted city, still determining its character, beats through the veins of the trolley lines and U-bahn stations that tie these disparate regions together in a cohesive web that only grows stronger as it pulls against itself. There's a certain measure of unity to the ever-changing cityscape.
And that's why I love it so much. Nowhere else I've been has a city felt so alive beneath my feet. Everyone knows the must-see locations: Checkpoint Charlie, Alexanderplatz, the remains of the Wall, the Brandenburg Gate. But what you don't realize until you visit is that the real charm of the city is how it has grown up around these historical centers. Just walking the streets, you'll see how a never-repaired husk of a building has been turned into an enclave for industrial art; how despite the line dividing the city having been consigned to history, the feeling of division still floats in the air. From the regal Charlottenberg palace to the contemporary art exhibit lodged in an old train station, Berlin is a city that wants to be seen, to be lived in.
If you want to see more than just another cookie-cutter royal palace or national history museum, Berlin cannot fail to deliver. Get off the beaten path, explore the neighborhoods, and really experience a city in transition. So grab a room at any one of its top-class hotels and give yourself an opportunity to fall in love with it the way I have.
---
This just in: The Hapuna Beach Prince Hotel is offering crazy deals for the fall season. Situated on the Kohala Coast in Hawaii, the hotel is home to 1,839 acres of scenic beachfront which it shares with just one other hotel. Its name is derived from a series of underground springs that used to bubble to the surface and form Artesian fountains, providing fresh water to weary travelers. Now the Hapuna Beach is home to an 18-hole championship golf course and offers a ridiculous variety of activities: swimming, snorkeling, outrigger-canoeing, sailing, kayaking, whale watching, and deep-sea fishing. Or you could just sit on the beach all day and enjoy the view of Hawaii's twin volcanic mountains, Mauna Kea and Mauna Loa.
Either way, the resort is offering some great deals, including getting your third night free. So escape the fall weather and check out this amazing island location. In no time, the headlines will be reading, "travelers tired of tourist traps try traditional, topnotch retreat."
---
After reading CNN's own list of great hotel pools, we decided to put our heads together and write up our thoughts on the matter. Who has the 10 best hotel pools in the world? To truly know, you'll have to visit yourself and see. But these are certainly our favorites.
10. The Banyan Tree Seychelles
With the simple application of basic mathematics, the Banyan Tree has figured out how to improve upon the tried and true concept of the private pool: By giving its two-bedroom suites two private pools – and what a sight they are. That's the kind of thinking I can get behind.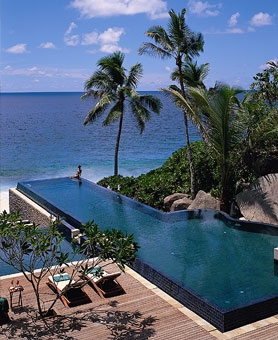 9. Le Palais de la Mediterranee, France
Le Palais de la Mediterranee in Nice rolls in at number 9 with its incredible 3rd floor indoor/outdoor pool. Just feet from a sun terrace with a gorgeous view of the Mediterranean, this is a pool that was tailor-made for lounging. If to you a vacation means leaning back, lowering your sunglasses over your eyes and relaxing the afternoon away, then this is the hotel for you.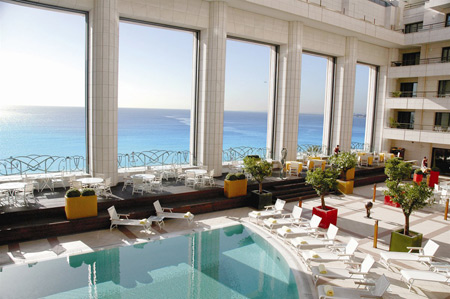 8. The Berkeley, London
While some other pools may be more spectacular, as you'll see in a moment, none offer the same level of comfort year-round as The Berkeley rooftop pool in London. The heated pool features a wonderful open-air swimming experience in the summer, but unlike most hotels, when it gets a bit colder, you don't have to take the party inside. The Berkeley instead rolls out its retractable roof, and you can now enjoy the comfort of a perfectly climate-controlled rooftop pool in winter.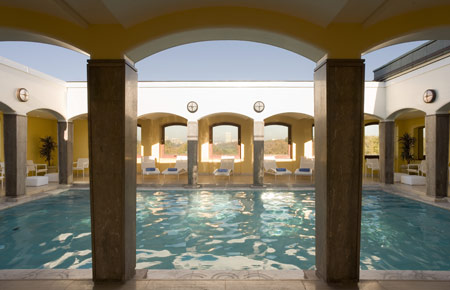 7. Villa d'Este, Italy
The pool at Villa d'Este on Lake Como would make Archimedes blush. Floating above the very lake that the Villa rests against, the pool features a built-in Jacuzzi and fantastic view of the surrounding mountains. It's like swimming in the lake just inches below your feet, but it's always the perfect temperature.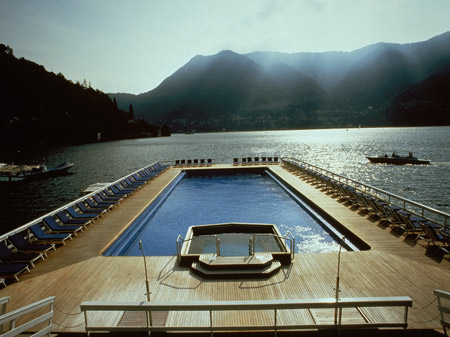 6. Blue Palace Resort and Spa, Crete
The Blue Palace Resort and Spa is truly deserving of its sixth place finish, and really if we were fair it'd be on this list twice. The aptly-named Blue Palace is renowned for the private pools that come standard with most of their rooms and suites. With pools up to 40 sq. meters in size for just you and your companion(s), there couldn't be a more private or luxurious swimming experience. And if that weren't enough, the Blue Palace is famous for its unique Grecian Thalassotherapy, which combines the relaxing powers of a world-class massage with water-cleansing rituals guaranteed to revitalize your body.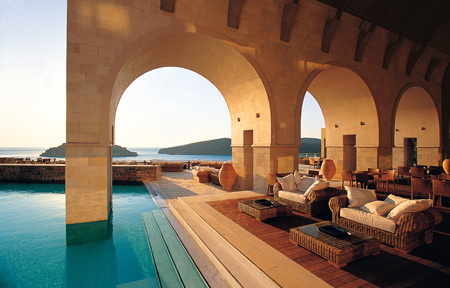 5. The Library Koh Samui, Thailand
In this case, the picture speaks for itself. The Library Koh Samui is built around the innovative concept that a vacation is about relaxation and people should be allowed to free their minds from stress by engaging in the simple pleasures of cracking open a book and enjoying the company of their family or friends. They've also turned their pool red - which is both surreal and strangely captivating, like green ketchup or a fish riding a bicycle.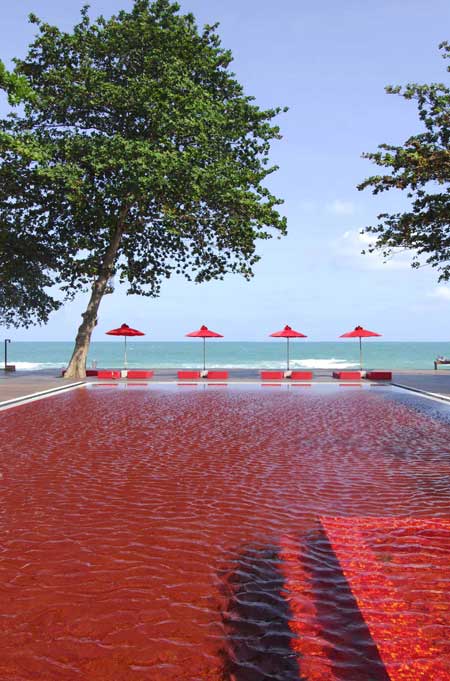 4. Rawi Warin Resort and Spa, Thailand
The 1000 sq. meter infinity edge pool at Rawi Warin looks as if the water is fading into the ocean, with only little beach umbrellas poking above the water line to let you know that it doesn't go on forever. The illusion is compelling and gorgeous. As if that weren't enough, Rawi Warin also has Asia's first ocean swimming pool, extending 100 meters into the water and allowing you to swim with the fishes in an entirely literal way.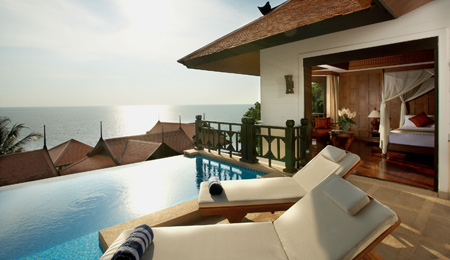 3. Palazzo Sasso, Italy
The Palazzo Sasso has one of the more innovative designs for a hotel pool we've ever seen. Situated on the edge of a cliff 1000 feet above sea level, the pool at Palazzo Sasso offers underwater windows with a view of the sea below, thus discovering the heretofore unknown condition of subaqueous vertigo. But seriously, it is the single most impressive thing I've seen at the bottom of a pool.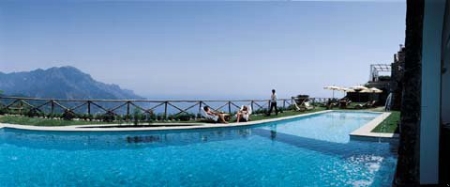 Atlantis the Palm Dubai may just be the best thing ever. If you got all the things together in one place, and made me pick, I'd say, "I want that thing. It looks like the best thing." So what is this thing I'm so excited about? Well, it just might be a standard luxurious hotel pool, only it's attached to a full water park! I don't bandy about with exclamation points lightly, but this seems to be worth one. If you, like me, have ever thought, "wow, this vacation is really relaxing, but what I'd really like is to go launching out of a ziggurat at high speeds into a pool of water," then this is the destination for you. And even more than that, much of the hotel is themed around this aquatic experience. There are underwater mazes, a four-and-a-half hectare dolphin habitat, and something they just call Aquaventure.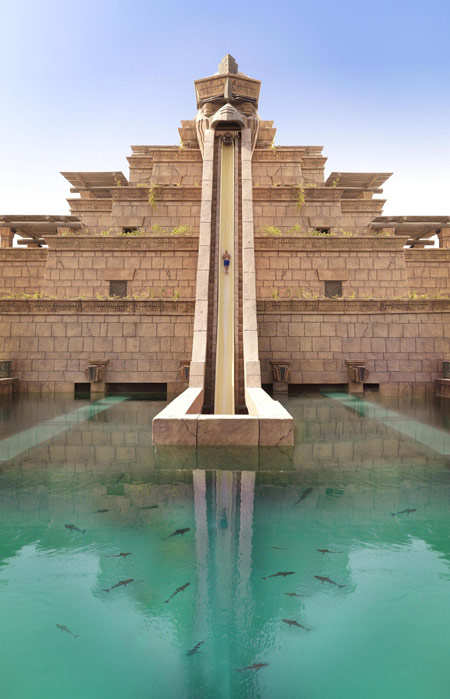 Occasionally, a feat of engineering comes along that's so remarkable, you have to doff your hat to the architects of its design. The Marina Bay Sands Infinity Pool in Singapore is more like what would result if Leonardo da Vinci were in the hotel business. Resting 200 meters above the ground in the Sands SkyPark, the Infinity Pool is as breathtaking as it is surreal – the edge of the pool seems to fade into the horizon itself. Swimmers are greeted with a panoramic vista unequaled anywhere. Without a doubt, the Infinity is the coolest hotel pool we've ever seen and not just for the breeze.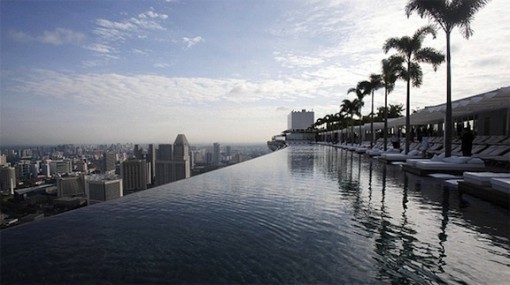 So throw on your swim trunks and book a room at any of these amazing hotels (maybe in the other order), and soon you'll be enjoying the sun by some of the most amazing pools in the world.
Posted in:
France
,
Italy
,
Thailand
,
Seychelles
,
Nice
,
Crete
,
Lake Como
,
London
,
Singapore
,
Koh Samui
,
Krabi
,
Mahe Island
,
Dubai
,
Articles
,
Featured Luxury Hotels
,
Travel with Kids
,
Luxury Spas
,
Beach and Island
,
Hot Spots
,
'Best Of' Lists
,
Luxury Suites
,
Our Favorite Sites
---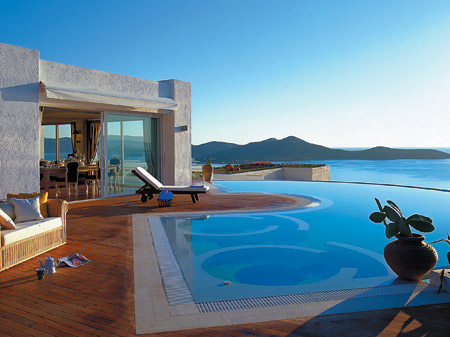 Hello, Sir or Madam. Welcome to my little corner of the internet. You've probably come because you Googled something like "luxury hotels + minotaur" or "best hotel in Crete + part 2 of a series of real-life destinations that will spark the imagination and transport you to another world." You didn't? Well, in any case, do have a seat; and, if you'll let me, I'd love to tell you a bit about another destination as well known for its fantasy as its reality. Check out Part 1 here.
Part 2 - Crete
What do you call someone from Crete? A Cretin? Cretacious? Creatine? Well, four thousand years ago, it was the Minoans who called it home. Besides having the most powerful mercantile fleet in the Mediterranean, the Minoans are most well-known for their namesake, King Minos. As the stories tell it, Minos was beholden to the legendary Minotaur who lived in a vast labyrinth and demanded a sacrifice of 14 young men and women every nine years. For decades, the king complied, until the hero Theseus promised to slay the Minotaur. As much a ladies' man as beast-slayer, Theseus killed the minotaur and survived only with help from his lover, Ariadne, who provided him with a ball of string he used to track his path through the maze. Theseus returned home in triumph, but unfortunately for his father, raised the black sails that indicate he had died on the voyage, and his father threw himself from a cliff in anguish before Theseus reached the port. Little did we know the whole story was just an allegory for calling your family.
Not surprisingly, modern-day Crete is better known for its beaches than its endless mazes. Situated in the middle of the Mediterranean, the coastal waters are as blue as the summer sky. And while your journey to Crete is unlikely to involve slaying a legendary beast, you might vanquish a few canapés as you enjoy the pristine waters and unequaled service at Elounda, one of the world's most exclusive beach resorts. While you're there, make a trip to Knossos to check out the ruins of the 1000-room palace that was the site of the myth of the Minotaur. Just remember to raise your white sail on the return home.
---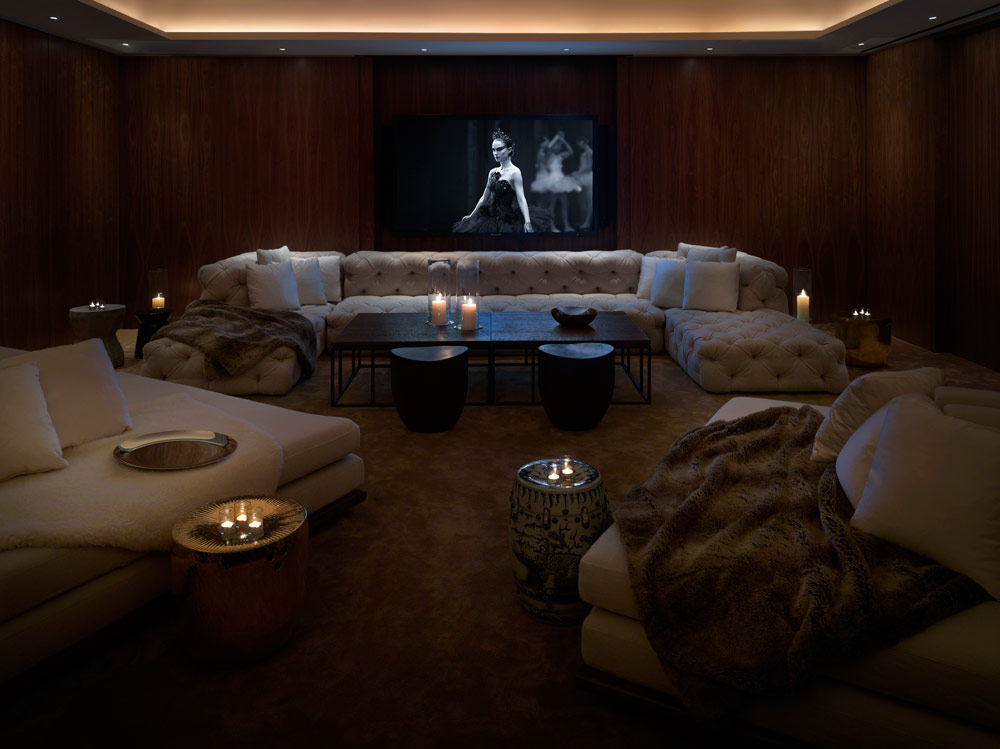 The Public Chicago just keeps coming up with something new. I just posted about them a couple of days ago, and already they're back with more interesting and innovative concepts. HotelChatter has released reports of their amazing, new room service. Classic room service is based on the concept of the full-service experience – because pure luxury is being waited on hand and foot. A butler brings the food to your room, and you go through an involved process of preparation and presentation. But the Public Chicago has smartly realized that sometimes guests prefer their privacy to an extra inch or two of service.
In this case, Public knows that discretion is the better part of more than just valor, and they offer an alternate room service model in addition to the standard. Often on vacation we want nothing more than to be left alone to lounge in our ultra-soft blankets, so the Public has adapted the philosophy of the convenience in non-interaction (see the self-checkout line at your supermarket) to luxury service.
Removing the pressure of having to look put-together and the hassle of removing unwanted dishes, the food is delivered in a surprisingly sleek brown bag with nothing but a discrete knock on your door. It's so circumspect; I'm half expecting them to offer a fake passport hidden in a false bottom with your every meal. While you might not be having a clandestine meeting with foreign intelligence agents, Public respects your desire for privacy and doesn't skimp on the quality. Look for this practice to catch on as more and more hotels cater to a modern sense of luxury. But don't worry if you prefer the classic; Public Chicago still offers the industry standard if discretion is not your cup of tea.
I've neglected to even mention some of the other spectacular reports coming out of this new hotel, such as the breathtaking views, complimentary bike rides, or fine dining. And if you're curious about the second part of the headline, I think this picture speaks for itself:
---
With the bustle of autumn upon us, kids back to school and the summertime lull over, I catch myself daydreaming about getting away to a place where I am treated like royalty. With the Fall Escape at Villa d'Este, overlooking the ethereal Lake Como just north of the historic city of Milan, that fantasy can become a reality. Built in 1568, the Villa D'Este has been the destination spot for noble families ever since, including the Queen of England herself. And it's no wonder; its 25 acres of gardens and majestic view over the lake have been painted and photographed for centuries. If you saw it hanging in a museum, you wouldn't believe it was real.
Maintained to preserve its original elegance, each of the Villa D'Este's unique rooms offers a variation on classical renaissance décor befitting of its status as one of the best in the world. So if you need a place to escape to this fall, don your purple bathrobe and look no further than the Villa D'Este, and prepare to be treated like a King (or Queen!).
The Fall Escape deal includes
• Breakfast at the restaurant or continental served in your room
• Free access to the Villa's state-of-the-art sporting facilities.
• Free breakfast and bedding for children under seven years of age.
• A substantial discount on room price over a variety of world-class options
---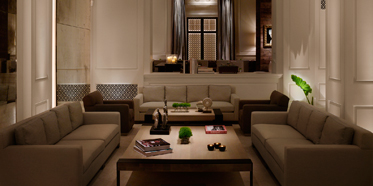 HotelChatter recently traveled to the newly renovated and renamed Ambassador East Hotel, now the Public Chicago Hotel, and have brought back their impressions along with a number of gorgeous photos. The verdict: Public Chicago is undeniably the next big thing. While the name itself evokes images of other, less luxurious public facilities, once you step inside, it becomes quite clear that the Public Chicago is warm, sleek, and modern. While the hotel has been updated and modernized, reopening just this month, it also hasn't forgotten its roots – the Public has integrated the traditional aspects of the Ambassador into their reimagining, ranging from a postcard of Dustin Hoffman dressed in their original bellman's outfit to their inviting library and exquisite restaurant, The Pump Room.
And when you consider the pricing of the rooms, officially starting at $135/night (though demand could quickly raise the cost), the "public" in the name becomes clear. The value for the cost is far beyond other hotels of its class, and the Public manages to bring affordability to a luxury hotel without sacrificing the experience that discerning travelers have come to count on – something that many hotels have tried and failed to do. This is no welfare system; it's an atmospheric and ultra-modern hotel offering top-of-the-line accommodations at a price anyone could afford. Click through to see HotelChatter's own analysis, and check out the galleries of the rooms and the public spaces for a look under the hood of a hotel so freshly rebranded, the cab drivers don't even know its name. And if it looks like a destination that's right for you (hint: it is!), don't hesitate to book now while prices are still low.
---