LUXURY HOTEL INSIDER
The Luxury Hotel Insider
: Exclusive luxury hotel deals, features and special rates from the luxury hotel experts at Five Star Alliance.
Named one of Tripbase's
Best Luxury Travel Blogs for 2011
, below are Five Star Alliance's newest articles featuring exclusive information on luxury hotels worldwide including special offers and deals at the world's best hotels.
---
Le Burgundy Paris is a 5-star boutique hotel located where the rue Duphot meets the rue Saint-Honore, in the Golden Triangle of Champs Elysees-Madeline-Opera. This historic property was built in 1800, remodeled in 2010, and has 59 luxurious rooms including 8 suites. Aside from inspirational architecture, a phenomenal restaurant offering delectable cuisine, and a relaxing spa, Le Burgundy Paris is also currently offering a special Five Star Alliance package, providing the perfect reason to make your travel plans today!
The Five Star Alliance Package provides the perfect way to pamper yourself for 1 hour and 30 minutes with a facial or body care option for ultimate relaxation. This package is available for 1 person and is not valid with groups or conventions. Take advantage of this incredible package and treat yourself to a much needed and deserving escape from it all!
---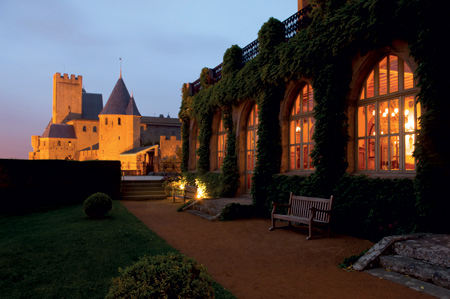 We've been spotlighting a list of Conde Nast's award-winning Gold List Hotels for 2012, and each one is amazing in its own right. In a clear case of never enough of a good thing, Conde Nast has yet an additional level to their awards, the meta-prestigious Platinum Circle Hotels, distinguished for being consistent Gold List winners for the last five years. Perhaps it could have been more aptly named the Conde Nast Award for Continued Excellence in the Having of Conde Nast Awards, but that's probably just my jealousy talking. It takes a certain level of cachet to be able to recognize someone for being recognized by you, and the Conde Nast Awards carry that weight. Regardless, the Platinum Circle hotels are undoubtedly some of the best of the best and have the mark of consistency that other hotels can only aspire to.
The Condé Nast Traveler Gold List 2012 is the eighth of their annual lists, and the hotels chosen by their team of editors and experts are the best for service, food, location, rooms, leisure facilities, ambiance and design.
Though some of us may have visited Carcasonne on our very own dining room tables, there's certainly reason enough to see one of the most storied feudal regions of France. To collect double points, the proprieters completed Hotel de la Cite in 1909 on the site of a former Bishop's palace in a neo-gothic style. Stain-glass windows and mosaic patterning adorn a hotel that echoes the sensibilities of 12th century France, and views of Saint Michel cathedral give it an eerily medieval quality. From within the circular citadel walls, Hotel de la Cite overlooks the surrounding farmland with all the commanding presence of the original fiefdom. Itself a UNESCO world heritage site, the fortified castle represents one of the most idyllic historic locations you could visit. If you're looking to get out of Paris to explore the rich history of a medieval France, there's nowhere better than Hotel de la Cite.
Check rates, availability, photos and more of the Hotel de la Cite here!
---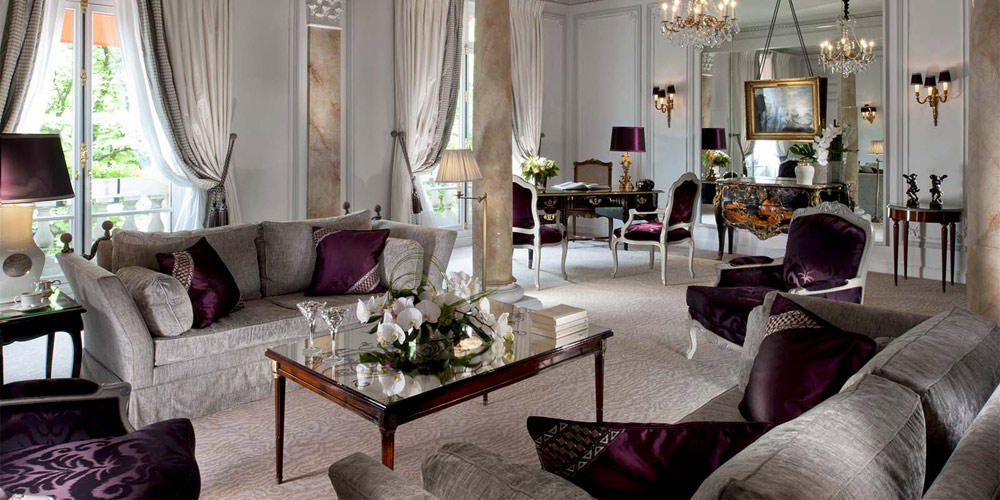 The Hotel Plaza Athenee is an incredibly romantic and beautiful hotel ideally located between the Avenue des Champs and Elysees and the Eiffel Tower. This luxury hotel features 188 luxurious guest rooms including 43 suites and offers views of the elegant Avenue Montaigne, the west side of the Eiffel Tower, or the courtyard. The Hotel Plaza Athenee takes service to a new level with hotel staff outnumbering guests 3 to 1, giving guests an extremely personal and unforgettable experience. If the location, phenomenal décor, and service aren't enough to add this to your list of hotels worth visiting, then consider this. The Hotel Plaza Athenee has recently installed a NightCove Sleep Solution in the Art Deco Suites. According to HotelChatter, "the sleep clinic at Hotel-Dieu Hospital developed this device, and it is a unique bedside lamp that helps improve the quality of sleep by bathing guests in selected light wavelengths and sound frequencies that are specially adapted for the physiological needs of sleep. Click on 'Sleep/Anti-jetlag/Nap' to stimulate melatonin with a red glow and the hush of waves, then greet the day with a 'Wakening' of soft music and blue light similar to early daylight.'
Wow! We're certainly impressed by this technology and would love to ease the pains of jet lag as quickly as possible. Make your reservations at this, let's face it, perfect Parisian hotel and stay bright eyed and bushy tailed for the entirety of your stay!
---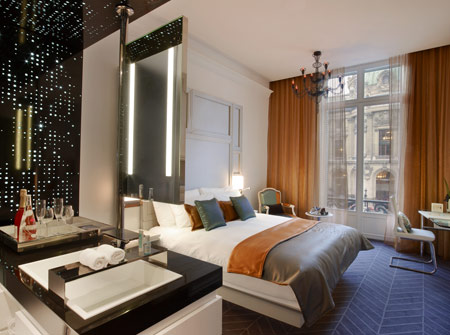 The clever W Paris Opera is set to open its doors on the most romantic day of the year, Valentine's Day. The City of Love will have a new luxury hotel in its collection starting February 14th, 2012, adding a bit more excitement to this already lively city. Make your reservations for Valentine's Day and be among the first to experience everything the W Paris Opera hotel has to offer.
The W Paris Opera is perfectly located in the heart of all the action in Paris. Take a stroll with your loved one down the Rue de la Paix and indulge yourselves in sparkling jewelry shops, and explore the Granier Opera House, a Parisian landmark. With 91 guest rooms and suites equipped with plush pillows, 350 thread count sheet, and Bliss bath products, you may never want to leave your room! This luxury hotel will steer away from the traditional hotels in Paris and have a backlit digital wall projecting abstract patterns through space, utilizing various colors to create different moods. The public areas of the hotel will have mosaic floors, marble staircases, and stained glass windows while the guest rooms will feature local art and original light fixtures designed specifically for the W Paris Opera.
Explore everything this hotel has up its sleeve and make your reservations today!
---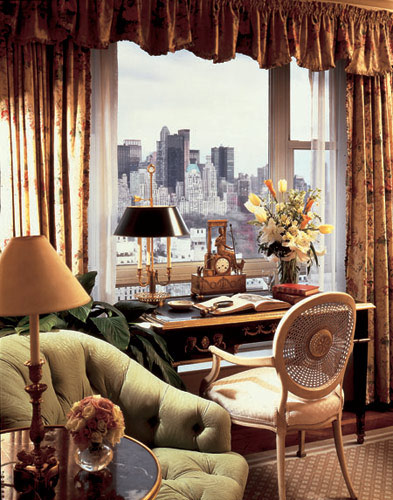 When Confucius declared the five pillars of filial piety, he hardly could have anticipated the sixth relationship that matters above all else, the one of blogger to his readers. In honor of that lasting bond, I have come bearing gifts to solidify our friendship. I hope you like them; I was going to make you a papier mache model of the Burj Al Arab, but my crafting abilities are on par with a baby elephant's, and I don't even have a prehensile trunk.
So instead, I'm happy to declare that Five Star Alliance have partnered with the Ritz Paris and the Carlyle in New York to bring you special amenities with reservations made under the Five Star Alliance rate. For a limited time, the Ritz Paris is offering free champagne with FSA reservations. The saccharine taste of bubbly effervescence is the perfect way to sweeten an already great deal for a hotel in the heart of the city of bread, wine, love, and cheese. And it's the perfect time to catch this Parisian gem before it goes off the radar for an extensive renovation.
If New York is a little bit more your style, the Carlyle is looking to show off its exquisite Rosewood Spa by offering FSA guests a $50 spa credit. Simply select the "Welcome Offer" rate code, and you'll be well on your way to enjoy a sumptuous soak in one of New York's finest spas. And don't forget that if you're friend of Five Star Alliance on Facebook by the beginning of March, you could win two nights at the Carlyle for free.
---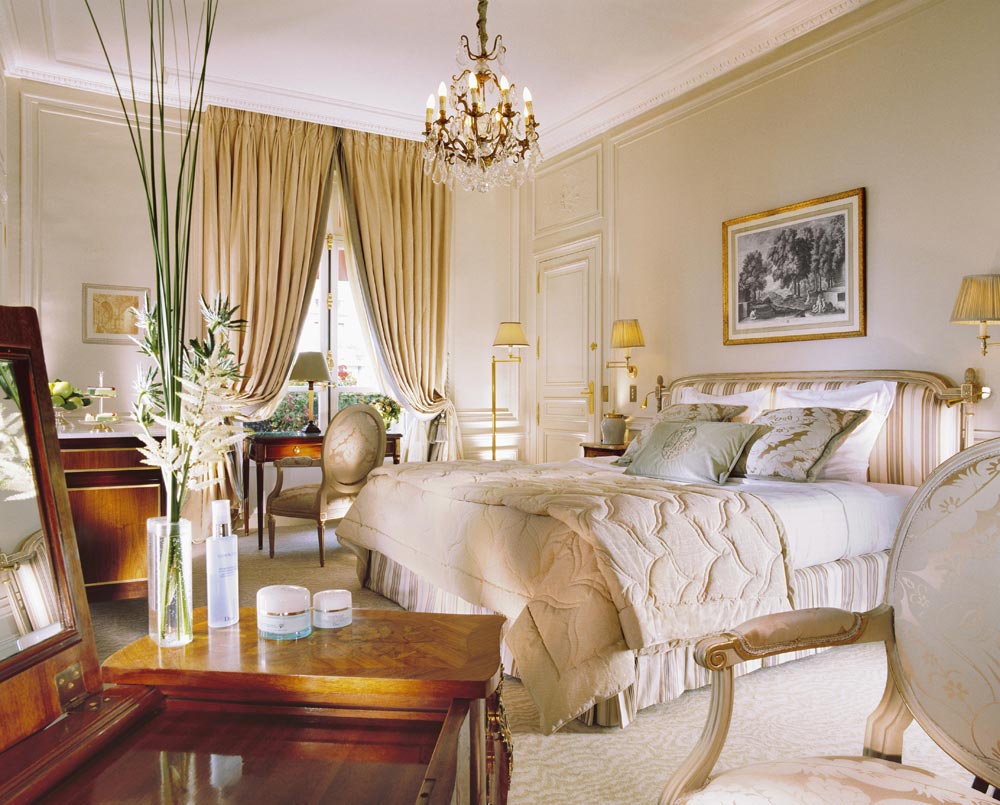 Valentine's Day is coming up, and, as such, it's time to think about where you'd like to spend the day with that special someone. Whether you're enjoying a cozy night in or an adventure on the town, a night in a luxury hotel can be the perfect gift to the both of you, a chance to escape to another world where no expense will be spared in giving you the night of a lifetime. What follows is just one in a series of our favorite romantic hotels, and, we think, a great place to take him or her this February the 14th.
For a city like Paris, its romantic image the stuff of fairy tales, it is almost impossible to pick our favorite romantic hotel. Whether an iconic mainstay of the cityscape or a small boutique hotel tucked away in a charming neighborhood, each jewel in the Parisian crown has its sparkle. So instead of evaluating by some arbitrary metric, like roses/sqm or candles of candlelight, I just thought to myself, "Where would I take my girlfriend if I found myself in Paris just a few weeks from now?" And once I stopped troubling myself with the details, the answer came quickly: The Hotel Plaza Athenee. It's everything you could desire for your romantic evening, a dream of a hotel within a dream of a city. And for the girl of your dreams, how could you ask for anything less?
Whether you're staying in the Eiffel Signature Exclusive Suite with a view onto the tower itself or a cozy room tucked away for perfect privacy, the Hotel Plaza Athenee promises to make a night you'll forget in the moment but remember forever. And with staff members outnumbering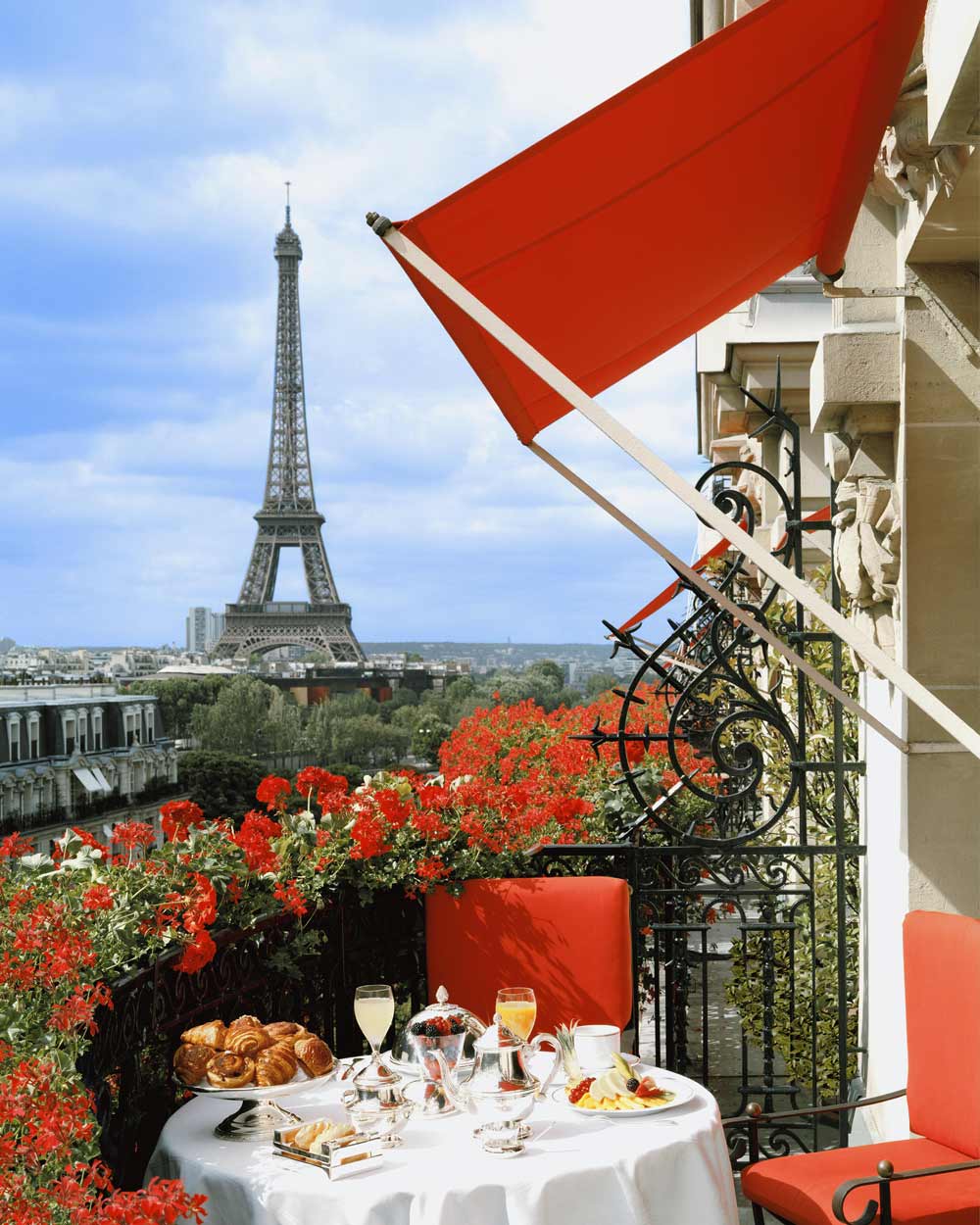 rooms nearly 3 to 1, you'll be sure that every detail is inch-perfect.
To set the evening off right, simply go downstairs to experience the cuisine world-renowned chef Alain Ducasse. The lightest brush of your lips against the bouquet of flavors in each of his dishes will create a never-before experienced synesthesia, a fusion of light and color emanating from your taste buds. Savor each bite as time itself begins to slow to a rest. And when you pair your meal with a bottle of the finest French wine, well, I don't even have to tell you.
It's a rare hotel indeed that I can recommend without reservation, but I guarantee that the Hotel Plaza Athenee will give you the Valentine's day experience you didn't even know you were looking for.
---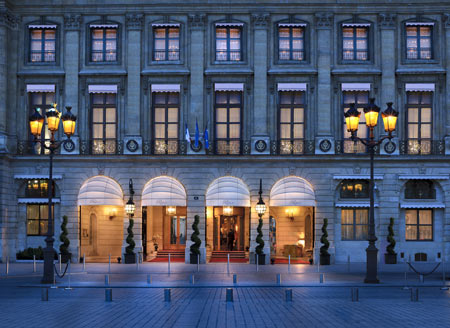 We can't think of a better place to celebrate the most romantic holiday of the year than the City of Love, and we can't think of a better luxury hotel to embrace the romance than the Ritz Paris. From its grand lobby and luxurious suites to its beautiful décor and charming dining rooms, this historic hotel never fails to enchant and inspire all who stay here. Decorated in classic French style and located in one of the loveliest squares in Paris, this hotel has welcome guests such as Marcel Proust, Elton John, Oscar de la Renta, and Coco Chanel.
On February 14th, 2012, the Ritz Paris is offering an unforgettable celebration. Enjoy a romantic gourmet dinner at the L'Espadon Restaurant which will have live piano music and an exquisitely romantic menu. One lucky lady will win a jewel, and every couple will receive a beautiful floral arrangement and a bottle of Ritz rose Champagne. In the evening, the Ritz Paris will offer guests a romantic ride through the Place Vendome in beautiful horse-drawn carriages. For the entire month of February, guests will be given extra attention and special treatment. Upon arrival, all guests will be offered an elegant rose and a chocolate surprise specially made by the Ritz Paris pastry chef. Each room will have all of the ingredients to make a "Miss Bonde," the iconic cocktail from the Hemingway Bar made from Ritz Champagne and strawberry liquor. To remember the special weekend you and your special someone shared, each couple will receive pillowcases embroidered with their initials and a copy of The Ritz Paris: Mixing Drinks, a Simple Story by Colin Field, the head bartender of the Hemingway Bar.
Can't make it to the Ritz Paris for Valentine's Day? Then be sure to plan your trip sometime this year because this beautiful hotel will be closing down in the summer of 2012 for an extensive two year renovation.
---
In the final days of 2011, Five Star Alliance is counting down the Top 20 Luxury Hotels & Resorts Worldwide, as decided by our guests.
In the #3 spot we have La Tremoille, located near the center of Paris's Golden Triangle.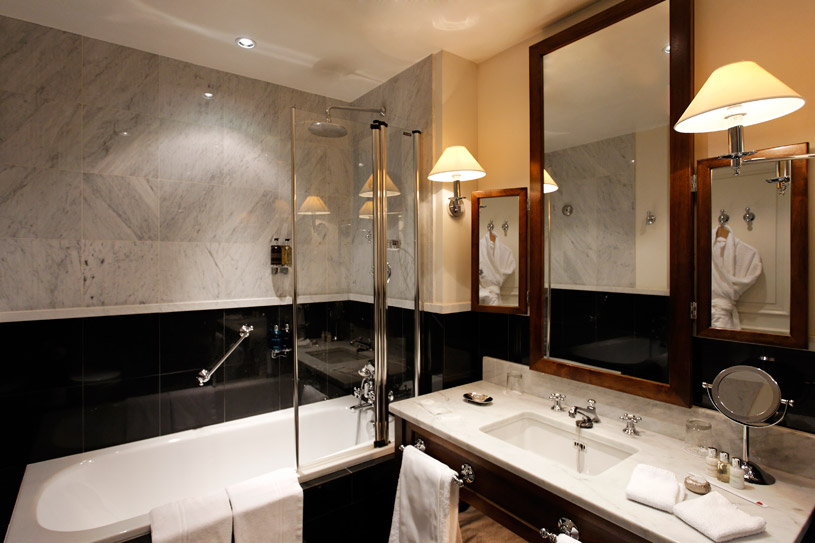 Quick facts about La Tremoille:
- The 93 rooms and suites are decorated in 30 different patterns and color schemes, accenting the personalized and unique stay of every guest.
- Renovated for 15 months in 2002, La Tremoille leapfrogged much of its competition as one of the traditional deluxe Paris hotels.
- Rooms feature a special "Hatch" foyer that offers ultimate privacy by separating guest rooms further from the hallway and allowing wait staff to bring room service and amenities without actually entering your room.
- Not only the hotel has been upgraded, the restaurant has been renovated even more recently than the hotel and has reopened under a new name, Le Louis2, offering wonderful French cuisine.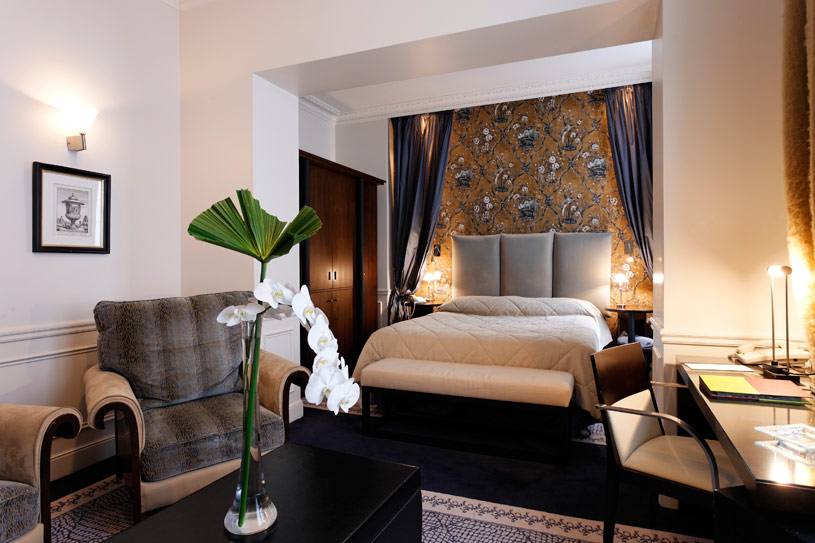 - The suites give a panoramic view of Paris rooftops and offer both living rooms and armchairs so comfortable, you find it hard to get yourself back out of them.
- The spa includes a sauna, hydro-jet shower, two private massage rooms, and beauty care rooms, not to mention the much-coveted jet-lag recovery therapy.
View photos, learn more about the hotel, and check availability at La Tremoille > >
Be sure to keep up with our countdown! Check back to see our top two hotels for the year!
---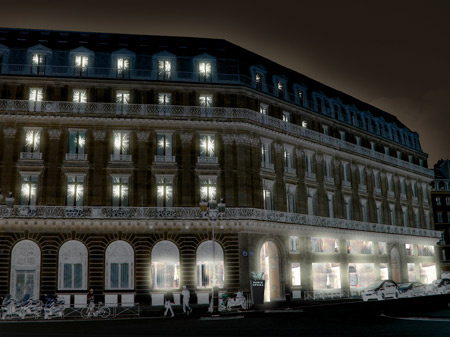 Located in the heart of the city of lights, the W Hotel Paris Opera is set to open on Valentine's Day, February 14th, 2012. The W Paris will be the first W Hotel in France, and it will be more of a boutique hotel, offering only 91 guestrooms, including 22 suites. This luxury hotel is steps away from the Granier Opera House as well as a short walk from the Rue de la Paix and Rue du Faubourg Saint-Honore, two fashionable shopping streets.
The restaurant at the W Paris provides guests with a culinary experience unlike any other. The chef prepares the menu with extreme attention to detail, highlighting the best ingredients available each season. Be amongst the first to experience the W Paris, and prepare to get swept away by the beauty and romance that comes with the city of love and Valentine's Day!
---
In the final days of 2011, Five Star Alliance is counting down the Top 20 Luxury Hotels & Resorts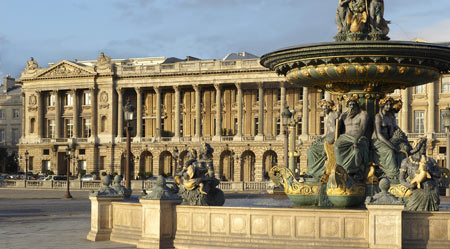 Worldwide, as decided by our guests.
In the #13 spot we have the Hotel de Crillon, the exclusive and historic Parisian icon.
Quick facts about the Hotel de Crillon:
- A historical monument in its own right, the luxury hotel is steeped in the culture of 18th century Paris. Its Louis XV design believes strongly in gold filigree and ornamentation, but never crosses the line into gaudiness.
- The gourmet restaurant Les Ambassadeurs fills the former ballroom of the Dukes de Crillon and dinner guests can enjoy the world class cuisine in a room that has entertained kings.
- And speaking of entertaining kings, so many famous guests have called the Hotel de Crillon home, that it almost seems an affront to the others to single any out. Theodore Roosevelt, King George, Andrew Carnegie, Cary Grant and many more have all called the hotel home, and they even flew the flag of Texas when Lance Armstrong celebrated his Tour de France victory inside their walls.
- Its suites are unparalleled, including the Leonard Bernstein suite, named for the famous composer who frequently called it home which offers a view of the Eiffel tower from your bubblebath. The other famed American to reside there, Edith Wharton much preferred the Hotel de Crillon to the nearby Ritz, where "the newly rich but uncultivated Americans stayed."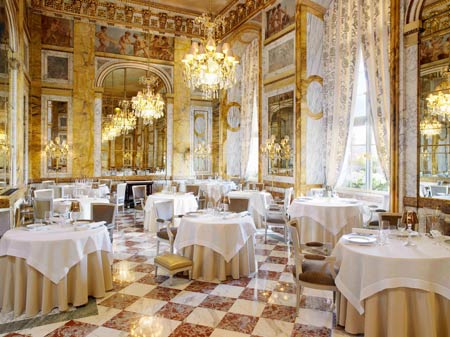 - One of only six palace hotels in Paris, you're guaranteed to get the royal treatment
- It houses seven palatial meeting and reception rooms that can house up to 350 people.
View photos, learn more about the hotel, and check availability at the Hotel de Crillon >>
Be sure to keep up with our countdown! In case you missed it, here are our previously featured hotels:
#20 – The St. Regis Resort Aspen
#19 – The Fullerton Hotel, Singapore
#18 – The Peninsula Chicago
#17 - The Tower Club at Lebua
#16 - Auberge du Soleil
#15 - The Mount Nelson Hotel
#14 - The One and Only Maldives at Reethi Rah
---