LUXURY HOTEL INSIDER
The Luxury Hotel Insider
: Exclusive luxury hotel deals, features and special rates from the luxury hotel experts at Five Star Alliance.
Named one of Tripbase's
Best Luxury Travel Blogs for 2011
, below are Five Star Alliance's newest articles featuring exclusive information on luxury hotels worldwide including special offers and deals at the world's best hotels.
---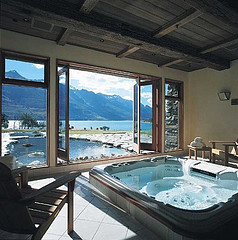 As the New Zealand Herald reports, luxury travel in kiwi territory is booming. Lodges like Kauri Cliffs, Wharekauhau, Blanket Bay and Huka Lodge are glam destination resorts that play host to celebs (laying low), oil tycoons, and the international jet-set. The cat's out of the bag about the remote Pacific islands whose breathtaking scenery played center stage in Peter Jackson's Lord of the Rings flicks. Our pick? The luxurious hideaway of Blanket Bay, with its magnificent setting next to Lake Wakatipu, beneath snow-capped peaks. Earning top accolades from CNT, Forbes, and the Sunday Times UK, Blanket Bay offers 12 secluded rooms and suites, constructed of timber and stone and filled with sumptuous furnishings. The suites boast exquisite views from large private terraces. Likewise, the mountain and lake vistas are phenomenal from the outdoor heated lap pool. Activities range from the adrenaline-pumping (jetboating and heli-skiing) to the calm and relaxing (excellent health and spa facilities).
Blanket Bay, Official Site
Blanket Bay, Five Star Alliance
---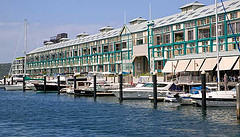 Taj Hotels Resorts and Palaces spent a mere $27.1 million for one of the hottest hotels in Sydney. On its first venture in Australia, Taj dubbed the boutique property BLUE Woolloomooloo Bay, an apt name for the luxurious marina surroundings on the Wharf at Woolloomooloo. Indeed, this is a perfect location: a hop from the Sydney Opera House, the Royal Botanical Gardens, and the central business and shopping districts. Distinguished among the top hotels in Sydney-- on the Conde Nast Traveler Gold List it was among the "Top 3 Best Hotels for Location in Australia/South Pacific"— BLUE also has an acclaimed restaurant and bar. (The Water Bar was named one of the "Top 5 Bars in the World" by Wallpaper mag in 2004 and one of the "Top 10 Bars in the World" in 2003 by CNT.) The 100 lavish guest rooms—including 36 stunning Loft Rooms-- retain authentic characteristics from the renovated historic wharf structure, but emanate urban chic and are equipped with all the latest technology. Not to mention sensational views of Sydney Harbor.
---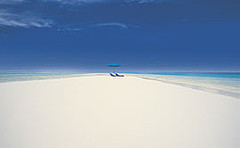 Escape the arctic temperatures to one of Fiji's most sublime and sought-after hideaways. This exclusive island retreat-- its solitude and seclusion the ultimate in tropical bliss-- offers 16 secluded villas, overlooking white sand beaches and the Beqa lagoon. What's in store for privileged guests? The villas are outfitted in mahogany floors, thatched roofs, sea-grass ceilings, and Jacuzzi spa tubs, with spellbinding views. Private terraces open onto the dramatic clifftop, with infinity-edge plunge pools completing the perfect setting. After a sea-soaked day of superb diving or snorkeling—most of these dive sites on the resort's living barrier reef have never been dived before– enjoy a four-course meal featuring fantastic fresh seafood.
---
Starwood just announced that it acquired the Le Meridien brand of 130 hotels and resorts for $225 million. For the 24 million Starwood Preferred Guest (SPG) customers, this means more choice in markets like Paris, Nice, Dubai and London. Additionally, Starwood will gain properties where it doesn't have them currently, in spots like Monte Carlo, Barcelona, Budapest, the Seychelles and Mauritius.
Posted in:
Articles
,
Romantic Travel
,
Travel with Kids
,
Business Travel
,
Luxury Spas
,
Beach and Island
,
Europe
,
Africa
,
North America
,
Bermuda & The Caribbean
,
Central, South America
,
Asia
,
Middle East
,
Australia, South Pacific
,
Travel Industry News
---

A permanent address that's an everchanging address… now that's a cool idea. Slated to launch in fall 2007, the ship will include 100 luxury apartments, with all the indulgent amenities for which Four Seasons is famous (spa, steam room, pool and cabanas, jogging track and fitness center, even… golf?) Grab a stake before they sell out. From $400,000 for a one-month timeshare for 50 years.
Via Travel and Leisure (flipping through the November issue)
Posted in:
Articles
,
Luxury Spas
,
Beach and Island
,
Europe
,
Africa
,
North America
,
Bermuda & The Caribbean
,
Central, South America
,
Asia
,
Middle East
,
Australia, South Pacific
,
Travel Industry News
---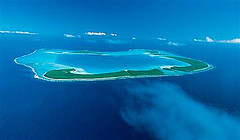 After yesterday's verbiage—sheesh! I'm wiped out!—I'll try to keep it short and sweet. There are rumors milling that Tetiaroa-- Marlon Brando's private atoll in Tahiti—will be an exclusive eco-resort in 2008. The Brando (as it's been dubbed) will require a $40 million investment, as there's no electricity or running water on the island. I wonder if there's a line already queuing for the 30 bungalows?
---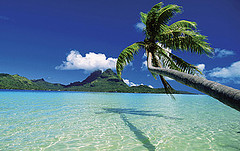 Islands Magazine has put together a pretty snazzy events calendar for this November. Their picks? Hawaii, for the incredible star-gazing of the Taurid meteor showers. (You've never seen falling stars like this!) Moorea, on November 3-6, for Tattoonesia, the island's first International Tattoo Convention. (Ooops, the revival has already come and gone.) St. Barts on November 16, to taste the first Beaujolais Nouveau wine of the year (six hours ahead of France, confined to the traditional midnight uncorking). And Australia, on November 4-13, for the Whitsunday Fantasea Reef Festival, celebrating the marvels of the Great Barrier Reef.
---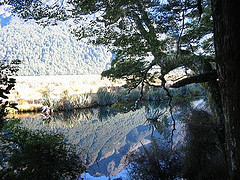 No offense to my kiwi friends. But there's got to be a good reason to fly halfway around the world to some isolated islands in the colder, less redeeming part of the Pacific. (This is, after all, the jumping-off point for all those crazy scientists doing work in Antarctica). The landscape? Snow-capped mountains, sheep-dotted valleys, blue lagoons, and rivers frothing with white water. Hmmmm, sounds a lot like someplace I know in this hemisphere. The cultural history? Again, sadly similar to the United States (outcast Brits, no longer welcome in England, settling a new land and doing their damnest to marginalize the native peoples. Though the Maoris are thankfully outspoken about the history of repression and have flamboyantly preserved their cultural traditions.) Does this explain why travelers to New Zealand are compelled to do crazy, dare-devil, adrenaline-pumping activities when they get to Queenstown? Like bungee jumping, sky-diving, or jetboating? If they didn't challenge themselves, they'd be bored to tears. To top it all off-- the icing on the cake confirming my opinions—is a recent article condemning NZ's luxury lodges. So, dear reader, I challenge you: What are your reasons for heading to the land of the Hobbits?
---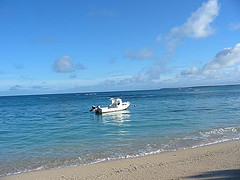 Where on earth is Tonga? Sure, I used to sip those elaborate tropical concoctions at the Fairmont Hotel's Tonga Room in SF, soaking in the kitschy atmosphere, complete with faux-Polynesian glasses and timed thundershowers, that would rain from the ceiling in synch with the cheesy tunes played by the live band (stranded on the—um-- floating "island" that moved across the artifical lake.) But before last year's adventure, I could barely find Tonga on a map, let alone trust the captains of my Air New Zealand flight to spy the air strip among the hundreds of islands in the middle of the Pacific. I was only about to discover this tiny island kingdom in the South Pacific: the first place in the world—positioned just to the west of the International Dateline—to see the dawn of a new day.
Unequivocally, Tonga is paradise: Long stretches of white sandy beaches. Not a soul in sight. A coastline marvel of magnificent blowholes, the surf erupting like geysers out of holes in the reef. Unique and lush vegetation on islands mostly uninhabited, though the main island—Tongatapu—is largely cultivated with fields of taro, sweet potatoes, breadfruit and mango trees. For the adventurous: caves to be explored (bring a torch, and candles to stick in fissures between stalagmites, so that you can swim in the cool freshwater pool in the pitch black of 'Anahulu Cave), snorkeling and diving, yachting in the sailing capital of Vava'u Island, whale-watching tours where you can actually swim with the humpback whales. I laughed in disbelief when the Peace Corps workers in Tonga advised me to track down a local boat operator to ferry me to an outlying island to camp for a day or two. Roughing it "Survivor"-style-- surviving on fish, more fish, and fruit).
The group of islands that comprise Tonga are undeveloped, untouristed, and largely rural. Pigs and dogs root around in the foliage, and lounge roadside, in traditional villages. Above and beyond the very real paradise landscape, Tonga is a place utterly distinguished by its culture, and very serious sense of hospitality. A word of warning: Be prepared to eat. Eating a lot in Tonga gives great joy and pride to your hosts, who will no doubt serve portions bigger than anything you've ever seen. (Guidebooks love to point out how Tongans embrace fatness. After all, the king was in the Guiness Book of World Records for his weight. And I'm yet to find another place in the world where the national airline requires each passenger to step on a scale before departure.)
Christianity pervades all aspects of Tongan culture. It seems (that terrible flick) Mel Gibson's The Passion of Christ generated more excitement in Tonga than anywhere else in the world. On Good Friday, I chatted with a girl in the airport who was on her way home to the neighboring island group of Ha'apai, who complained that it had been impossible to rent it from the video store in town. She was desperate. I watched pirated versions make their rounds around town. Discreetly changing hands in brown paper bags.
On the one hand, Tongans are very proud to say that they have never been colonized—that all the other Pacific Islands are under the jurisdiction of some foreign power-- but on the other hand, Tonga is very much colonized by religion. Indeed, it seems there are more churches in Tonga than there are villages (there are often multiple churches of different denominations in one village.) And all businesses—even Royal Tongan Airlines—are closed on Sunday. This same Good Friday, I saw a man walking down the road, burdened by the weight of a large white cross, with a trail of people behind him. We were in a Catholic village, and a series of shrines had been erected all along the road. These towering crosses—draped with woven pandanus mats and artificial flowers and images of Jesus—seem to be the ultimate fusion of cultures.
Ready to lounge and eat, lounge and eat, like the locals? For the ultimate Tongan vacation, head to the awesome, German-run Sandy Beach Resort, in the Ha'apai island group. Bungalows are set right on the beach, with the outlying coral atolls perfect for snorkeling. Meals are lavish and delicious. Royal Tongan Airlines flies daily from the capital, Nuku'alofa, (a 45 minute flight) though the airline is notorious about delays.
Want to know more? The Tonga Visitors' Bureau has posted extensive information on their website.
---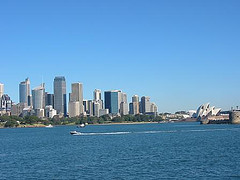 In the November issue, Outside Magazine just featured the top ten trips in Australia, including treks in Queensland, sea-kayaking in Tasmania and diving the Great Barrier Reef. My favorite experience down under? Ferrying across Sydney's Harbor to Manly beach, gaping at the Opera House on the way, then gobbling down those scrumptious little meat pies (washed down with local brew) after sunbathing and surfing in this perfect Sydney suburb. Next stop: the Outback. (Is it worth the blood, sweat and tears to get there?)
---