Condé Nast Traveler Gold List 2012: The Saffire Freycinet
---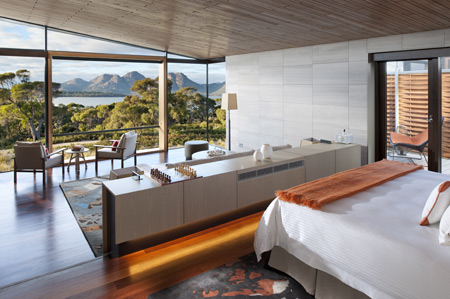 We understand that no one aims to come in second place; there is no recognition for mediocrity. We at Five Star Alliance understand better than anyone the importance of offering the most luxurious resorts in the world, so we notice what's going on in the industry, and it matters to us, because it matters to you. We work hard to offer you the best in the industry, and we'd like to welcome you to our second blog series where we feature the best and most luxurious resorts in the world. But don't take our word for it. These resorts have been recognized as the best in the business and have made the prestigious Condé Nast Traveler Gold List 2012.
The Condé Nast Traveler Gold List 2012 is the eighth of their annual lists, and the hotels chosen by their team of editors and experts are the best for service, food, location, rooms, leisure facilities, ambiance and design.
The Saffire Freycinet in Tasmania, Australia is featured on the Gold List 2012: Best hotels for rooms. This luxury hotel is located on the curve of sandy coastline that joins Tasmania to the Peninsula in Freycinet National Park. This luxury hotel overlooks the Great Oyster Bay, and it provides guests with 5-star accommodations unlike any other. The Saffire is dedicated to providing exceptional service, quality, and an unforgettable experience. This is a boutique hotel with just 20 incredibly luxurious suites that are packed with every amenity and feature you could imagine. From a full fridge to an iPod preloaded with your favorite music, this hotel certainly has it all. Get ready for an incredible adventure, and be open to the hotel's powerful vibes and calming personality that will bring you to a deep level of rest and relaxation.
---