What's Up With the Burj Dubai?
November 23, 2005By: Mary Winston Nicklin
---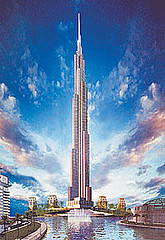 "Throughout history, only a handful of structures have had the power to change history." The great pyramids, Empire State building, Eiffel Tower, and... the Burj Dubai? Pretty bold, if you ask me, but this development is being billed as "the most exclusive address in the world," not to mention the world's tallest building. This will be the site of the first of the Armani Hotels and Resorts, scheduled to open in 2008. Emaar Properties is supposedly investing $6 billion in its Burj Dubai project. Opposite the tower, The Old Town Island will feature residences, boutique offices, spa and retail outlets.
---
Related Hotels