What's Up With Macau?
October 13, 2005By: Mary Winston Nicklin
---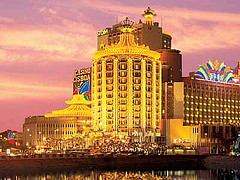 When I last visited China's old Portuguese colony in May 2004, it was sleazy, shady, and—I'll admit—a teensy bit scarey. Granted, there are plenty of interesting historical sites in the old city—its historic heart full of narrow streets, pastel facades, and Chinese courtyards lined with the signature Portuguese tiles. The East-West cultural exchange is awesome, proudly manifest in the architecture: Chinese temples standing side by side the remnants of the first Christian churches in Asia. But the view from my window in the dated Hotel Lisboa was downright depressing; the casino strip seemed caught in a time warp of aged, cheezy opulence. The hang-out for the dregs of Hong Kong. So I'm amazed by the latest buzz-- that Steve Wynn is scheduled to open a sophisticated hotel and casino in Autumn 2006. Looks like Wynn follows another Vegas based gaming resort. Last year the owner of the Venetian in Vegas opened the US$240 million Sands Macau. Indeed, Time Asia has predicted an explosive gaming boom for Hong Kong's lesser known neighbor. Is Macau the next luxury hotspot for the world's highrollers?
---
Related Hotels