What's Hot: Misool Eco Resort, An Exclusive Dive Hotel in Indonesia
---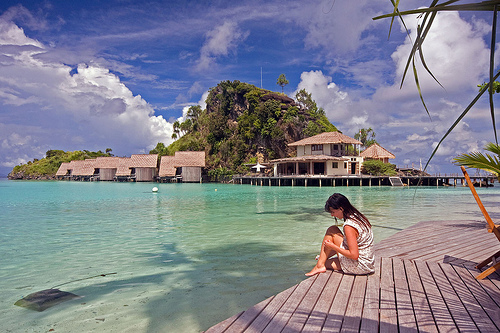 An exclusive new dive resort has caught our eye, on a tiny island off the map in Indonesia, surrounded by some of the richest reefs and dive sites on earth.
Misool Eco Dive Resort
is located in the southern part of Raa Ampat in a large archipelago of uninhabited islands. Getting there,
to quote UrbanDaddy
, is half the adventure: "Sometimes you've got to go a long way to get anywhere. A flight to Jakarta, another to a tiny Papuan haunt called Sorong, a four-hour boat ride to a private island so tiny it barely qualifies for a name." A dive resort and conservation center all in one, Misool Eco Resort allows guests the privilege of diving the resort's very own 425 square-kilometer No-Take Zone with incredible marine biodiversity, boasting more species and protected coral forests than anywhere else on earth.
"You'll spend your days hopping hotel-run boats
out to the ocean's more interesting spots, and spend your nights with millionaire hobbyists, alluring nature photographers and Zissou-style adventurers, swapping stories and whiskey bottles in the hotel restaurant." What paradise.
---