What's Hot: Le Gray Opens in Beirut in 2009, The Latest from Hotelier Gordon Campbell Gray
---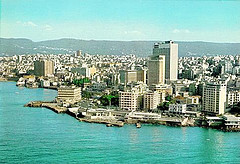 From
Wallpaper*
to
HotelChatter
, the
Times UK
to the
New York Times
, hotel authorities worldwide are in agreement about one of the hottest hotel debuts of the year:
Le Gray in Beirut
. From the mastermind behind
One Aldwych
in London and
Carlisle Bay
in Antigua, Le Gray promises to up the trend factor in this cool capital which is both coastal and urban. The sexy boutique hotel will have 80 rooms and a rooftop pool.
Straight from the horse's mouth
:
I was also excited by the quality of the restoration work I'd seen in Beirut following previous wars. I don't think any other city has ever brought together so many leading architects from around the world to get it right. Our 85-room hotel, Le Gray, is in Solidere, next to the Gardens of Remembrance, which is the area that was destroyed and completely rebuilt. The façades of the shell-damaged buildings were stunningly restored and the city was re-created down to the last detail, including the street furniture... The building is completely new; it was designed by Kevin Dash who did an amazing building in Beirut called Bank Audi. It will be eight storeys tall and made of beautiful yellow stone, with a restaurant, piano bar and an amber-coloured swimming pool on the roof. The piano bar will be housed under a huge glass dome that will change colour - you'll be able to see it for miles around. The pièce de résistance will be a refrigerated wall displaying violet peppermint cream chocolates that will co-ordinate with the slashes of violet on the chairs. (We will be serving only violet creams with coffee.) And there's a huge bronze wall in the lobby. The bedrooms will be very calm and sophisticated with an Islamic design, walnut ceilings and mosaics in the bathroom. It's one of our most exciting and sexiest designs yet.
---