We're in Love with Lisbon
---
If being "affordable" is the new trend in travel, then we at The Informed Traveler say the city of Lisbon is tremendously chic.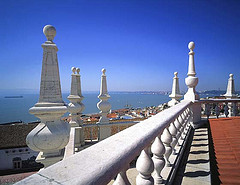 Why? Compare the price of some basic amenities in euro-using European cities as British News of the World just did, and Lisbon's tally on the cash register comes out the lowest of all. For a cup of coffee, bottle of Heineken, can of Coke, bottle of mineral water, suntan lotion, insect repellent, 20 Marlboros, three-course meal for two with wine, a postcard and a stamp, Portugal came in as the best value euro destination with a total cost of $47.50 versus $79.85 in France.
Add that into Lisbon's easy access from the U.S. (it's the western-most capital city of Europe), its honest, authentic culture, its mild climate and plentiful beaches and you've got a most viable vacation destination option, whether you're a luxury traveler or a backpacker.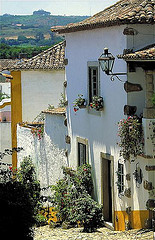 So we concur: Lisbon is cheap, chic, authentic and accessible, but now it's hot, too, according to J.Crew, which recently visited the city to shoot its February catalogue. So enamored were these fine folks of the city's blue, blue skies, white-washed and pastel-hued buildings, beautiful city square and mosaic sidewalks, they wrote a "love letter" to the capital city on its website. Give it a look and you'll be packing your bags for Portugal before you know it.
That J. Crew selected Lisbon for its photo shoot isn't unusual; for years, producers from all over the world have been attracted to the light that providing a richness of color to all things good in the city.
Want more inspiration? Here's a fabulous video from YouTube (the narration is in French but it doesn't matter.)
And now for that dining we mentioned earlier.
Lonely Planet says that for Lisbon, 2009 was the "Year of the Chef." They write: "Every star chef in the city opened a new restaurant this year, and one of them, José Avillez, earned a Michelin star for the legendary Tavares. Other promising new openings are Henrique Sa Pessoa's Alma, Ljubomir Stanisic's 100 Maneiras and Vitor Sobral's Tasca da Esquina. Newest of all is Luís Baena's Manifesto, which is in the Santos neighborhood (Hint: This is Lisbon's newly designated Design District, filled with unique shops and restaurants).
Insider Tip: If you're a culinary traveler (and aren't we all, when you get right down to it?) you might want to check out Altis Belém Hotel & Spa, whose chic new eatery, Feitoria at the Altis Belém Hotel & Spa now offers cooking classes every Saturday from 4 to 6:30 p.m. (We hear that private lessons are available too.) What's on the curriculum? How Portuguese herbs, how to make risotto, how to cook with Portuguese sausages, and how to prepare fish, are some options.
Culture Watch: We say that taking a ride about 30 minutes outside of Lisbon to the village of Cascais is well worth the trip to visit the new Casa das Historias Paula Rego Museum, which is filled with the works of the Portuguese painter Paula Rego, who is considered part of the "London Group" of artists which also includes David Hockney and R.B. Kitaj.
Adventure Option: Sometimes we at The Informed Traveler just want to break loose when we're on the road and hit the pavement. Count Lisbon in as one of the great biking cities of Europe; it has 20 miles of biking paths that provide great point-to-point destinations (from Belém to Cais do Sodré, and between Benfica and Campolide, for example). Bike Iberia provides easy access for renting a bike in the city; visit http://www.bikeiberia.com/rentals_lisbon.html
Want more on Lisbon? Visit http://www.insideportugaltravel.com.
---