Washington D.C.'s Mayflower Renaissance Hotel Preps for Big Makeover
---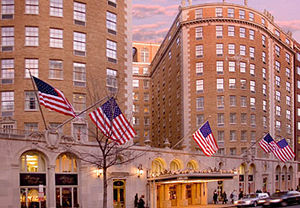 The historic hotel near Dupont Circle is getting ready for a multi-million dollar overhaul this month. When it opened in 1925,
The Mayflower
was labeled Washington, D.C.'s "Second Best Address" by President Harry Truman. Today the four-diamond hotel-- located just four blocks from the White House-- gets props for its events space and famous bar.
The Washington Post reports on The Mayflower's makeover
, which will be finished in midsummer:
The area now occupied by a Thomas Pink store will become a new restaurant and bar. The current Town & Country Lounge will be converted into a new Thomas Pink with a look more similar to that of its prototype in London. The Cafe Promenade will reopen as a 3,000-square-foot gala event space.
---